Having done a bit of work on the production side of the porn industry, I know that big tits photo sessions can be a lot of work, especially for the models (which is one of the reasons I don't mind actually paying for my porn). Then again, there are a few sites who know how to make a boobs shoot fun! BoobsGarden did precisely that when they invited four of their girls together for a party, allowing them to just play while the photographers did all the work! But more on that in a moment.
First, I wanted to provide a sneak peek from when generous webmistress Pani Silk treated a lucky group of the BoobsGarden gals to a relaxing vacation at the Croatian seaside (see? she really knows how to take care of her models!). In our first glimpse of their top-heavy holiday, we get to see Aneta Buena & Kora enjoying themselves on the shore and in the pool (and, unlike that terrifying scene in "Attack of the Water Melons", the crystal clear water gives excellent exposure to the buoyant big boobs that dwell below). So here they are – lovely aquatic lesbians Aneta Buena & Kora on the coast of Croatia – courtesy of BoobsGarden.com…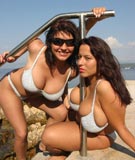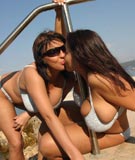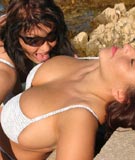 CLICK HERE TO VISIT ANETA BUENA & KORA AT BOOBSGARDEN.COM
…rolling on with the videos, here's the answer to my earlier-impled question, "What happens when you get three beautiful busty blonde Polish girls, Lana Cant, Malina May & Wanessa Lilio (the latter of whom loves me (btw, Wanessa: Wyjdziesz za mnie?! Zaczekaj chwilkę… Jestem żonaty. *westchnienie*)), and one amply-endowed token non-blonde, Kora, together for a party?" Judging from the video footage shot during this improv photo session, they all had a great time, playing up each other as well as the camera!
I really enjoyed this one because, in contrast to some of the over-produced porn you find elsewhere, the BoobsGarden party vid provides a rare glimpse of these naturally busty babes in their native environment. Amidst all of the dirty dancing, passionate snogging and stripping going on, we also get to see Kora flashing her pussy in the kitchen and Wanessa taking a sneaky smoke break, not to mention Wanessa knocking poor Malina over whilst attempting to take her bra off! Indeed, genuine big boobs Polish party-girl action at its best, once again from BoobsGarden.com: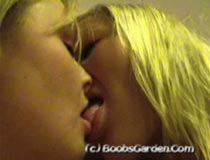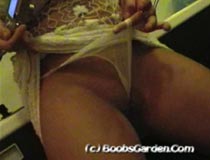 CLICK HERE TO VISIT BOOBSGARDEN.COM