When I featured some of the classy cleavage of PinUpGlam a couple of weeks ago, I made brief mention of Welsh brunette beauty Lorna Morgan but didn't feature anything of her apart from one measly photo. She deserves far better, of course, which is something I intend to rectify in today's blog (especially since she'd been kind enough to post a comment on another blog I'd written a while back (thanks, Lorna! )).
Ms. Morgan began her topless modelling career in 1999 at the age of 23 and, within two years, found herself enjoying international acclaim for her large, natural breasts (which she recently revealed as having grown to a 30JJ from her original G-cup measurements!) and slim, sexy legs. Lorna also holds the unique distinction of being the 2nd most local model I blog, since her hometown of Cardiff is only 77 miles away from me!
For those of you who've enquired as to Lorna's maternal status, I'm pleased to report that she became a mommy on June 25th, 2005 with the birth of her son Leo! Lorna describes this even as "my ultimate dream come true". Her last photo shoot before having the baby was for my mate Cel in Paris but, at her request, he avoided any overt belly shots as this was something Lorna preferred to keep private. The same holds true for lactation: While she hates to have disappointed her fans, we have to respect Lorna's wishes to reserve all of her breast milk for Leo alone.
That's fine by me, though. The fact that she's still willing to continue sharing her incredible body and beautiful breasts with us is more than enough, as far as I'm concerned (besides, if we want milking pics & vids, we've always got Maxi 32JJ, Alicia 36JJ & JuggMistress!). Thus, in an effort to give this lovely lady the coverage she so justly deserves, here's Lorna Morgan from two of her many appearances over at PinUpFiles.com…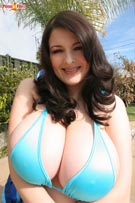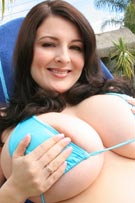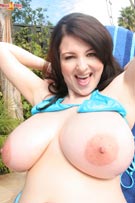 (note: sample photos are 1/4 resolution of those found on the site)
…as a dedicated member of PinUpFiles, I must say that for a site specialising in retro-style pinup shots using modern big boobs models, it's curious to note the volume of videos found there! One imagines that this must be from some sort of future-retro movement (you know, from years hence when we all had those full-motion active-matrix LCD pinup calendars adorning our garage walls next to our hydrogen-powered hover-cars). Whatever the case, here are a couple of Lorna Morgan video clips from PinUpFiles.com: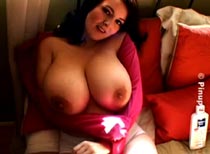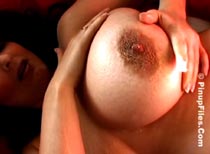 CLICK HERE TO VISIT LORNA MORGAN AT PINUPFILES.COM