As I was running through the photos and editing the video clips from Eden Mor's "Garden of Eden" for today's blog, I was reminded of a joke my father told me when I was but a wee laddie (seems he just keeps cropping up like this in memory, further encouraging my then-fledgling breast fetish):
It took place at a formal wedding rehearsal with all of the guests present. Having nearly finished their trial-run through the ceremony, having reached the "you may now kiss the bride" portion of the service, the two soon-to-be betrothed lock lips for a passionate snog. Suddenly, the groòm bolts from the altar and begins dashing from pew to pew, fondling the boobs and pinching the nipples of all the ladies present. "Whatever are you doing?!" exclaimed his shocked and embarrassed bride. "I was just following the script," replied the groom. "After the kissing bit, it said, '(a nervous titter runs through the room)'." :~P
With that thankfully out of the way, I've been getting quite a few requests lately from folks wanting to see the latest HH-cup breast fondling videos Eden Mor has posted on her site. The most recent was from a visitor identified only as "tit lover" who wrote, "Could you please put up more videos of Mor's boobs getting caressed and squeezed?"
Now, I'm assuming that you're looking to see someone else groping Eden (considering she does plenty of that herself all the time). If that's the case, then I think I've only featured such 3rd-party tit-play once before here (unless you count Eden's girlfriends, that is). So, in an effort to please some of the people all of the time, I'll go one better – videos and photos of Eden Mor having her breasts caressed!
Let's start with the pics, shall we? From GardenOf-E-D-E-N.com, of course…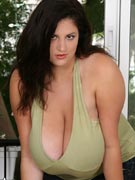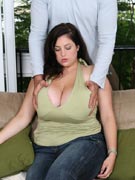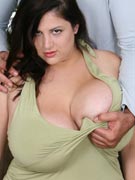 (note: actual photos downloadable from the site are at least 1024×683 resolution)
…but what static image could possibly compare to the sight of those soft, squishy boobs being manipulated in full massive mammary motion! I especially like the bit where Eden's anonymous admirer stuffs his whole hand down her colossal cleavage (at least I think it's a man, judging by the hairy arms (although I suppose it could be a woman, albeit with tiny tits and excessive testosterone levels!))! Anyway, here's more of Eden Mor having her 80HH breasts groped and fondled in three preview video clips I've lovingly cobbled together for you from GardenOf-E-D-E-N.com: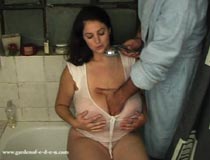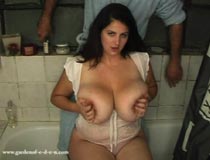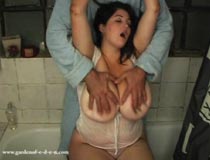 CLICK HERE TO VISIT EDEN MOR'S "GARDEN OF EDEN" WEBSITE