Sadly, my e-mail has been buggered up for over a week now, so I totally missed out when Silky from JuggMaster sent me the announcement of their new 38JJ model Sofia Rose. :~( But, although I missed her debut on the site late last week, I figured there's no time like the present to present the latest addition to Juggy's hooterific harem of huge-breasted women!
The voluptuous 31-year-old Southern California native of Latina descent started developing early in life. By the age of 15, her bust-line had grown to a respectable 36DD though she only weighed a mere 110lbs. After she gave birth to her first child, she began to gain weight and her boobs grew proportionately. Now weighing in at 240lbs with massive 38JJ breasts, Sofia's grown quite accustomed to her BBW status, citing that 100lb women with huge fake boobs are a dime a dozen. Thus, she's decided to make a name for herself in the popular BBW niche rather than struggling her way through the more mainstream nude modelling market (read "sticks with tits").
I do like a woman who is totally comfortable with herself, no matter what her size and shape, although I'm somewhat surprised that JJ-cup Sofia hadn't picked up on her obvious appeal to the big tits niche as well! Leave it to JuggMaster to expand her horizons into the world of big breast lovers.
And so, it's my pleasure to introduce 38JJ Sofia Rose from JuggMaster.com…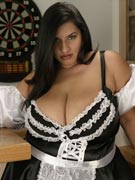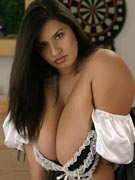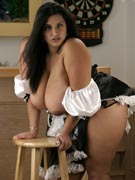 …and, wouldn't you know it, shortly after I'd made this post, Silky sent me a video of Sofia to include in my blog! Thus, as an addendum, here are a couple of video clips of the lovely Sofia Rose and her 38JJ breasts courtesy of JuggMaster.com: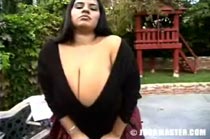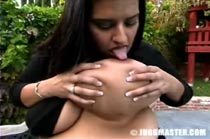 CLICK HERE TO VISIT 38JJ SOFIA AT JUGGMASTER.COM