From the moment I blogged Carmen Costa a couple of days ago, the comments came rolling in rife with speculation that Carmen was none other than Breya (I would say "in disguise", but it's quite the opposite). Mike in Toronto summed it up thusly: "Reece, we want an explanation. It is obvious that this is Breya, as everyone here agrees with my original suspicion. Could this be the reason for the lack of information on her website?"
Trouble is, I don't have one (oh, and it's "Reese" with an "s", but no worries, as everyone seems to do that). The fact that Carmen's site sports a nearly identical format to Breya's seem to be a bit of a giveaway, but I'm not entirely sure. At one time, I'd featured a collection of Breya photos with her face intact – a sort of "mystery solved" post – but soon received an e-mail from her webmaster kindly requesting that I remove them, saying that they were no longer showing her face on the site and that my blog could be misleading to customers. C'est la vie.
So are Carmen Costa and Breya indeed one in the same? I don't know, and suspect – short of her webmaster coming clean on the issue – we'll have to relegate this one to the unanswered questions file (although the rest of you seem rather sure).
But since we're on the topic of anonymous models, I thought I'd take this opportunity to bring back the milking Maxi 32JJ, as she's not graced the pages of MyBoobSite for a while. Despite being another one who doesn't show her face, she always seems to be a big (tit) hit with breast lovers everywhere. Whether it's videos of Maxi lactating or simply slathering up her big boobs in baby oil, her full, pendulous JJ-cup hangers seem to have taken on a stardom of their very own. I can certainly respect that, but I do wish she'd be more careful with those scissors!
Big breasts in the spotlight and nothing more, nipples spraying streams of milky goodness with the close-up attention to tit-flesh we've all become accustomed to, here's Maxi 32JJ from Maxi32JJ.com: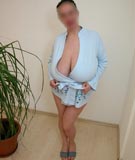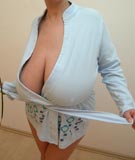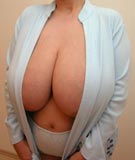 (note: sample photos are 1/4 resolution of those available on the site)
CLICK HERE TO VISIT MAXI 32JJ AT MAXI32JJ.COM