Before you all get into a panic thinking that Kelly Kay has expired of something, let me tell you up front that the beautiful busty blonde (but no longer) teen tits star is alive and well. It's just that I hadn't paid much attention to her since my first Kelly Kay blog way back in October of 2005. No, far from being a memorial blog, this one's simply a story of how this stunning young girl happened to wander back into my awareness.
You see, I was playing around with Bustypedia, a free on-line encyclopaedia of big boobs which allows visitors to make new entries and update existing ones, and provides a convenient index by cup-size. I'd just made my first contributions there with a few galleries from Mercy 44FF, 32HH Ashley and my wife, Vix, and was surprised whilst browsing around that the only other entry in the F-cup category so far was for my forgotten Kelly Kay!
The trouble with these user-editable encyclopaedias made in the Wikipedia mold is that there's no real guarantee of their accuracy. While I cannot dispute the stats that she was born Kelly Kershaw on November 29, 1985 in Livepool, England, I do wonder about some of the others, however. Take the 42F-26-36 measurements, for example (which are quoted likewise on many sites), as Kelly seems a bit bigger than a standard F-cup to me, compared to when she started her topless modelling career, since her gorgeous body has become progressively more voluptuous. Also, I have to take exception to the highly questionable heterosexual orientation, especially considering that enthusiastically hardcore lesbian video with Bozena – not to mention the photo shoot with Linsey Dawn McKenzie in the last gallery below!
But, be that as it may (and it very, very well may be) and despite the obvious redundancy, I just wanted to give the lovely Kelly Kay a bit more exposure here on MyBoobSite. To that end, here are a handful of galleries from her Score-hosted website, BustyKellyKay.com: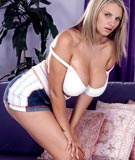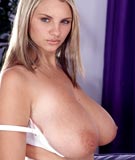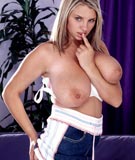 CLICK HERE TO VISIT BUSTY KELLY KAY AT BUSTYKELLYKAY.COM

(webmasters)