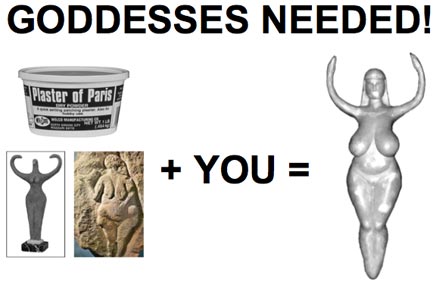 In the interest of big boobs in art, I've decided to devote the first portion of today's blog to – *gasp* – a public service announcement. I received an e-mail a while back from Portland sculptor Dale th'Nail detailing an ambitious project in which he intends to construct "life-sized, Neolithic Goddess images from plaster life-casts of life-sized, terrestrial women".
Thing is, he needs breasts – very large breasts at that; G-cup and beyond – in order to commence the task (he's also looking for small framed, small chested women, but we shan't speak about that here). Thus, if you'd like to contribute your generous endowments to the arts (or know someone who might be interested), click here for further details.
Here are a couple examples of Dale's work…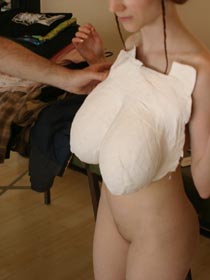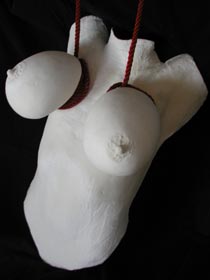 …speaking of artsy tits, the latest series from Aneta Buena at BoobsGarden struck me as being particularly artistic in nature. Then again, Aneta stikes me as being a particularly classy woman. It doesn't matter whether she's having a game of pool or letting her big boobs bounce buoyantly beneath the water, Ms. Buena maintains an alluringly elegant air about her.
This series finds Aneta basking her big boobs at the seaside, which explains how she maintains that glorious tan of hers. Although my preference is for naked breasts unimpeded by the confines of clothing, I found the first few shots with Aneta's cleavage plunging into that loose-fitting wrap rather enticing (second only to the photo of her sleeping in the sun).
Here are a few highlights, courtesy of BoobsGarden.com: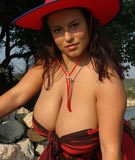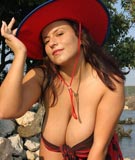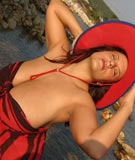 CLICK HERE TO VISIT BOOBSGARDEN.COM