I am truly at a loss for words (and I'm sure you can imagine just how unusual that is!). I wandered onto Eden Mor's Garden of Eden website today with the sole intent of catching up on what our HH-cup Israeli beauty been doing with herself recently (apart from wanking, of course, but that's a given).
It was then that I came face-to-face with her latest photo & video shoot wherein Eden engages in the relatively simple act of washing her car. Fair enough. There's nothing like the 80HH wet t-shirt look followed by slippery, soapy tits gliding effortlessly across a shiny surface and huge boobs pressed on glass to make such an otherwise mundane task seem somewhat sexy.
But this was different. Eden looked different. She seemed somehow… sexier than usual (as if that's possible). More streamlined, even. Is it just me, or have Ms. Mor's voluptuous 43-29-38 measurements changed somewhat since we'd last seen her? Now, I know that I'm rightly regarded as a chubby chaser, but this apparent change in Eden's dimensions have me finding her more attractive than ever! Take a look at these most recent photos from her GardenOf-E-D-E-N.com website and let me know what you think…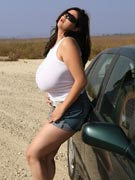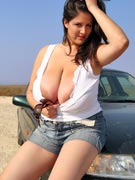 …now, the carwash videos included with this series make a perfectly splendid complement to the pics, as Eden is often prone to go a whole lot farther when the video camera gets rolling than when she's just doing a photo shoot. For example, in the photos, she does go on to strip off her panties and treat us to a couple of rather good pussy shots, but it's not until the videos that Eden's wondrously intrinsic inability to keep her hands away from her crotch really shines through. ;~) Oh, and the fist-fuck style simulated soapy tit-wank is a nice addition as well (mind you, she could probably tit-fuck an elephant with such a prodigious pair of bountiful breasts)!
Before I try to imagine that last unfortunate scenario to haplessly cross my mind, I'd best post these latest video clips of the incomparably beautiful Eden Mor washing her car (and looking more incomparably beautiful than ever, I might add) courtesy of GardenOf-E-D-E-N.com: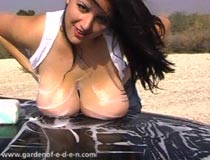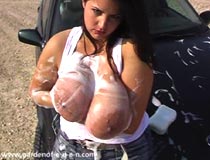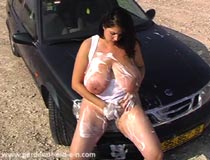 CLICK HERE TO VISIT EDEN MOR'S "GARDEN OF EDEN" WEBSITE