In her two latest blogs for SexySamantha38G, voluptuous vixen Samantha Anderson addresses the time-honoured topic of "T&A", asserting that thin is out (thank fuck for that!), curves are back in style and the mass media are finally starting to take notice!
It's about time, too, as the popular media and fashion industry have been trying to dictate our tastes for far too long. Although we men have always known what we wanted physically in a woman – namely, big tits and nice, round asses – I fear that a fair number of women themselves may have started believing the hype: Those with the voluptuous curves we desire would go on diets or, failing that, conceal their innate beauty in unflattering loose-fitting clothing. Others would simply starve themselves to death in order to achieve the unhealthy, stick-like proportions that the "thin is in" mantra professed. Otherwise stunning girls have been disowning their feminine features for some time now, and it's seriously got to stop.
Samantha's starting to see a sea change in this, however, and begins by citing the features that the porn industry finds most desirable in the female form. "[I've] never been a Titty Bar with flat chested rail thin females," asserts an incensed Sam, "Titty Bar means you are going to find healthy weight, hopefully large chested (even if it is not real), nicely rounded bottom chics who are not afriad of their curves or flaunting them. Heck, the clubs I worked at if you did not have at least a D-cup. You were on the day shift until you got your boobs augmented. You had to be exceptionally beautiful to work the night shift with A, B, or small C-cup." Indeed, the sex industry knows what men want – large breasted girls of a healthy weight with round bottoms.
Samantha then moves on to the more mainstream media citing that, in the '30s through the 50s, the movies seemed to get it right using full-figured females like Jane Mansfield, Marilyn Monroe, Sofia Loren & Jane Russel to fuel our sexual fantasies. More recently, she observes that Anna Nicole Smith was given a TV show at her heaviest – not her thinnest – and we all watched, riveted (and it's also curious to note that when Anna Nicole lost the weight, she lost the show). America's Top Model provided another good example in 22-year-old contestant Toccara Jones who, weighing in at 180lbs and sporting a healthy rack, joined the show to further her aspiations of "becoming the world's first superstar plus-size model". As Sam said, "She stood out among the skinny, small breasted girls. She was a women and the others are just girls."
Let's just hope that this slowly-building trend continues so that women the world over with the physical attributes we love can finally understand that they are truly the beautiful ones that men desire most! In the meantime, of course, we've always got the stunning Samantha 38G. Here are a few photos from her latest solo series (I just love the "view from behind" shot that splendidly showcases her huge tits and round ass in all their glory) from SexySamantha38G.com…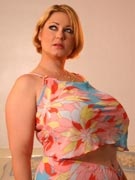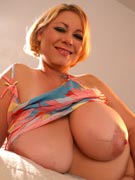 …as Samantha quite rightfully says, "T & A will always be a classic. Classics never go out of Style. SEX sells. Always has and always will. When you think of SEX, immediately you think of T & A." But, since this is MyBoobSite, I've chosen to focus upon the "T" variable in that equation in my videos for today's blog with a few choice and totally breast-centric video clips from her new "Flowers" series at SexySamantha38G.com…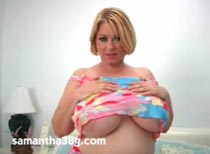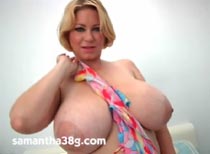 …and, whilst we're here, I also thought I'd give you an update on the budding lesbian relationship between Sam and her girlfriend Ellecee! I'm pleased to report that things are going quite marvellously for them and, in their latest video, we get to see them fuck (okay, so they're using a vibrator on each other which, without a proper penis, is probably the closest they'll get to full-penetration sex). Ellecee seems to be quite the ardent tit-woman as well, never resisting the opportunity to grab big handfuls of Samantha's G-cup tit-flesh during their sexy encounter (perhaps the sexiest bit being the look on the two girls' faces as Sam licks the dildo clean after having plunged it repeatedly into Ellecee's pussy and bringing her to a screaming orgasm)! And so, a few more video clips of Samantha 38G & Ellecee having a fucking good time in their latest lesbian videos from SexySamantha38G.com: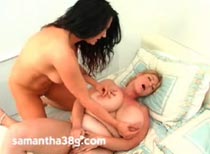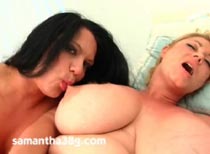 CLICK HERE TO VISIT 38G SAMANTHA AT SEXYSAMANTHA38G.COM

(webmasters)