Sorry for the protracted absence, and thanks to those of you who've e-mailed your concerns of my whereabouts. I realise that a week without an update is unheard of on MyBoobSite, but it's only going to get worse for a little while before it gets better. This month finds me doing a lot of travelling, including nearly a fortnight back in the 'States coming up in a week or so. I'm sure I'll be able to knock out a few blogs before then, but I probably won't be truly "regular" again until toward end of this month. So thanks for your patience and on with the boobs…
Regarding the title of today's blog; yes, I know they're the same person and, no, I'm not really looking for an answer (unlike my query regarding the three non-blondes a while back, which I still haven't decided upon, but thanks for asking). It's not technically a rhetorical question, either, as I'm not making any presuppositions or trying to steer you in any particular direction. Rather, I simply appear to be losing the ability to distinguish between the two distinctive manifestations that are Merilyn Sakova / Anya Zenkova (or, more likely than not, I just don't care).
Before you get the wrong impression and begin thinking I've gone off Merilyn, let me assure you that is not the case. I still feel that she's the epitome of "slim & stacked" genre of models, ranking right up with the likes of Jana Defi & Faith Nelson (all G-cup goddesses that they are). It's just that ever since she began appearing regularly as Anya 32G over at Divine Breasts, I found myself largely ignoring her original Busty Merilyn solo site. Besides, I'd always considered the latter Score conceived effort a bit too "professional" and overly polished to do justice to a natural beauty like Merilyn.
But I'm not so sure any more. Looking at my last Anya blog of her DB persona, and then comparing it to the BustyMerilyn.com shoot below, I can see a lot of similarities. She just seems so much more relaxed with it all now, even to the point of smiling on an alarmingly frequent basis! Whatever have they done with the rigid, self-parodying, Score-groomed automaton of our Merilyn that used to dwell there? Who cares?! Granted, she'll never regain the innocence of her early days, but it's just so nice to see her on form again…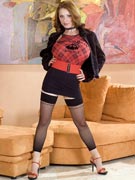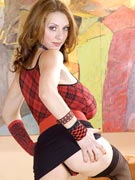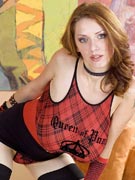 CLICK HERE TO VISIT BUSTY MERILYN SAKOVA 32G AT BUSTYMERILYN.COM
(webmasters)