Ever since I first blogged Claudia-Marie after a number of intrepid big breast lovers had alerted me of her existence, I've been totally hooked. It's not the fact that she's a blonde that attracts me to her like a moth to flame, nor is it her mature MILF status (a fetish I've never really had a firm grasp on, perhaps because I'm somewhat advanced in age myself and MILFs seem to appeal to the younger crowd). In fact, I can honestly say that it's not even her delightfully squishy big tits providing the primary provocation for my lust. No, it's something that, although demonstrative, lies deeper within.
It wasn't until I started exploring Claudia-Marie's website in greater detail that the reason finally dawned on me. Seeing this intensely horny older woman fuck all of these different men every which way in unfathomably illicit sexual situations was a major turn-on; how she would entrap unsuspecting males with a sexy glance or touch of innuendo, using her feminine wiles and well-endowed body to maximum effect in converting each into her next sexual conquest. Yes, Claudia-Marie was an uber slut – a true nymphomaniac in every sense of the word – and that, dear readers, is a quality I find utterly irresistible in women.
I began to wonder how it all started – why I hadn't heard of her before. Surely, she must've been a young nympho slut at some point – or was it something that came on naturally with her maturity? Now, I know that I revert to talking about my wife, Vix, with great frequency here, but she's a good point of reference for me (not to mention the source of some exceptional sex stories). Vix set off on the path to her own slut-dom very early in life, annoying her best friend as a teen by systematically fucking her way through all of their male mates. In fact, said best friend's mother, mortified by Vix' overtly promiscuous nature, bought her a t-shirt which read: "It's not pretty being easy." [And, of course, Vix wore this on every possible occasion just to annoy her.]
So, that being my sole point of reference – well, that's not entirely true, as the semi-girlfriend of my youth (whom I'd described here) could serve as a worthy competitor in terms of sheer promiscuity – it tends to reason that Claudia-Marie may have fostered her carnal concupiscence from an early age as well! If that's the case, then where's her early porn?! As attractive as she is now, she must've been a total knockout blonde bombshell in her youth, and I'd have loved to see the whole progression nubile naughty nympho to mature MILF mega-slut!! As such, I feel slightly cheated that we've missed out on all of those wonderful years of her life.
That said, I take great consolation in the fact that Claudia-Marie has become quite the prolific pornographer as of late, offering constant updates with respect to her hedonistic sensual adventures. In her latest erotic exploits, we find Claudia in the kitchen wearing a sexy low-cut top which accentuates her copious cleavage and fails to conceal the upper arcs of her areolas. She's soon joined by a neighbour who's come to return a drill that he'd borrowed, unaware that busty blonde MILF standing before him had designs on a drilling of her own!
Unable to resist her almost magnetic pulling power, the bloke's all over Claudia-Marie faster than the fuckingest fucker on fuck-day, fondling her huge breasts and running his hands eagerly all over the curves of her luscious body before helping to relieve her of her clothes. I must admit that found the next bit rather sweet, actually: With Claudia-Marie now standing totally naked before him, the neighbour kneels down in front of her in an almost worshipful manner (and, with the beautiful "big boobs from beneath" view that this provides as Claudia-Marie kneads her own breast-flesh, I can certainly understand why!), sticking his hand between her legs to feel her wet pussy. After he stands back up to indulge in a little tit-sucking, Claudia drops to her own knees and reciprocates with a blowjob.
The real hardcore action, however, doesn't commence until she gets him down on the bed. What follows is an orgy of more cock-sucking, pussy-licking and fucking in every possible position (well, missionary, cowgirl & doggy-style, at least). Although there's far more to the story than that, especially after Claudia-Marie's husband unexpectedly arrives home, but I'm frankly tired of typing and quite sure you're bored of reading my drivel. That being the case, here's a generous selection of photos to chronicle their sexy encounter at Claudia-Marie.com…



…remember when I told you there's more to the story (you know, the part about Claudia-Marie's husband happening in in her and their neighbour's naughty fuck-fest)? Well, rather than relating the story, I've simply chosen an additional video gallery to illustrate some of what happens next. And so, here's busty mature MILF super-slut Claudia-Marie, her neighbour and her husband in hardcore videos from Claudia-Marie.com: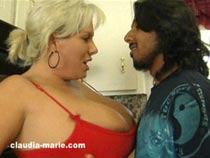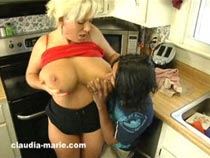 CLICK HERE TO VISIT CLAUDIA-MARIE AT CLAUDIA-MARIE.COM

(webmasters)