Being a bit of a party animal (which bit, I do not know) back in the early-'80s, my friends & I would frequently organise elaborate parties at our university, each one based around some suitably absurd theme and making extensive use of props, lighting and stage effects to set the mood. All that was required to attend is that you dress as an imaginary character of your own conception and spend the evening convincing others of your existence. Inevitably, these would all turn out looking something like the party in the park scene from the musical "Hair" (now I'm really beginning to show my age, aren't I?).
However, it was the music, more than anything, that steered and governed the roller coaster of mood shifts throughout the night and we quickly came to realise that he who controlled the playlist controlled the party. We could take partygoers to a frenzied peak with fast-paced psychedelic hardcore and the take them down again, lulling everyone into a false sense of security with something serene before hitting them square-on with a wildly experimental track. Indeed, we got no end of enjoyment out controlling the crowd's collective subconcious with such subversive sonic mood manipulation.
Blogging, I've found, is a bit like having control of the playlist (though, granted, not nearly as intense). It doesn't really matter what I say – that can be totally irrelevant (as aptly evidenced in my rambling introduction) – it's the photos & videos (a sort of "mammary music", if you will) that sets the mood. So, sauntering sprightly from one end of the big tits porn spectrum to the other, having spent the past day and a half perusing the prurient hardcore offerings at Faith's new site, I thought I'd shift things into a more retro, relaxed and easy-going gear using the softer, gentler side of porn.
Today's "track" selections come courtesy of PinUpGlam.com, known for it's tasteful treatment of tits and the women who tout them (and, more recently, for providing proof positive of the veracity of Jana Defi's G-cups). If you ever find yourself waxing nostalgic to the days when topless pin-up models graced garage wall calendars everywhere, then this is the site to visit. Using modern-day mammary-laden marvels like Jana Defi, Anya Zenkova, Brandy Robbins, Maggie Green, Lorna Morgan and more, PinUpGlam strives to imbue their models with a glamorous, classy retro look in ridiculously high-resolution photos (in fact, if you zoom this full-size photo example 1:1, you can even detect the slightly furry bits of Anya's lumbar region!).
Thus, before I wander off with the wife for a weekend of partying (and, no, I'm not in control of the playlist this time), let me leave you to party on with a small sampling of the big-breasted girls of PinUpGlam.com…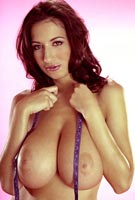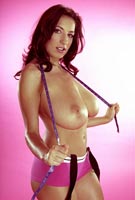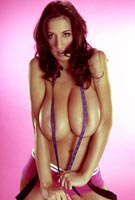 (note: sample photos are 1/4 resolution of those available on the site)
…and, as for that "experimental track" that we'd be wont to include after a series of serene selections, how about a few of PinUpGlam's experiments in black & white photography, shot with *gasp* good, old-fashioned 35mm monochrome film in an analog camera, for that ultra-retro appearance? While I still get the slight impression that Brandy Robbins might be some sort of wet-dream inspired cyber-boob creation (especially in that 3rd "deer caught in the headlights" photo below), she does provide a rather nice contrast to fluffy ex-redhead Earth-mother Maggie Green, who seems to be getting just a little bit more voluptuous every time I see her (and, as such, precariously approaching my personal preconception of the ideal woman).
And so, as my blog day draws to a close and I prepare to wend my way into the weekend, I leave you with a black & white Brandy and a monochrome Maggie, vintage-style vixens in the neoclassical tradition of PinUpGlam.com: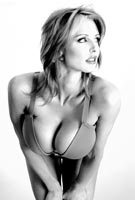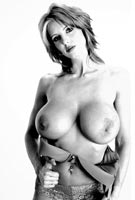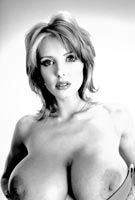 CLICK HERE TO VISIT PINUPGLAM.COM