Well, not in Eden, specifically, although that is a pleasant thought. I'll bet it's quite warm inside of Ms. Mor, actually, not to mention moist, slippy and inviting. Don't you just want to sidle up next to her, gently removing her hand from her crotch and replacing it with your own (coz, let's face it, she's usually got a couple fingers up inside of herself most of the time anyway)? If it were me, I'd start by lightly tickling two fingers up and down over her labia whilst rubbing my thumb back and forth across her clitoris, releasing a torrent of moisture to lubricate the entry of my index and middle fingers into her wet pussy, using them to seek out her g-spot – that tender mound of inner flesh positioned just beneath her pubic bone – all the while continuing to thumb tease her clit, ever more rapidly and with gradually increasing pressure until she explodes in the ecstasy of a combination vaginal / clitoral orgasm, spreading her legs wide and thrusting her pelvis feverishly and repeatedly into the air, upon which I'd replace my hand with my mouth, sucking and thrusting my tongue deep within her folds to taste those succulent juices, and then…
…no, wait. If I keep going on like this, I'll be driven to distraction and won't be able to finish today's blog. What I meant to say was is it hot wherever Eden lives, the worldly residence of her heavenly Garden of Eden website (which I sincerely hope is somewhere other than her home town of Haifa). It's been bloody hot here in England, with temperatures reaching up to 37°C (98.6°F – blimey, that's body temperature!). Air conditioning being largely non-existent here in the UK (expect in automobiles), I have only a big electric fan to cool myself as I sit here at my computer desk blogging away. I probably should be drinking something other than coffee, but I've obviously not figured that out yet. And the wet daydreams of Eden Mor certainly aren't helping, either.
Eden, on the other hand, is keeping cool inside, trying on various bikinis to brave the hot Summer (I'll bet she's got an air conditioner in there, too!). While all of her choices are luscious, I'd have to say that the black one is my favourite, with not quite enough material to cover her huge aureolas and allowing a generous portion of her 80HH boobs to spill out the sides while still offering exceptional cleavage. This photo in particular leaves me with the uncontrollable urge to reach out to her left breast and tuck the label in, letting the backs of my fingers glide sneakily over her nipple on the way out. She'd have to remove that tag first. Tehn again, if she actually goes out with it still dangling from her bikini top like that, she runs the serious risk of people starting to refer to her as the Minnie Pearl of the big boobs world. I don't think she'd mind, though, as our Eden seems like a lot of fun. In fact, she's even begun snapping silly cam pics with her phone and posting them on the site!
Anyway, back to the bikinis. Here's the exceptionally-endowed Eden Mor modelling a nice selection of too tight bikini tops for us (although I feel they're all a perfect fit!), courtesy of her GardenOf-E-D-E-N.com website…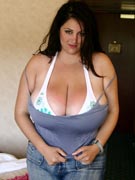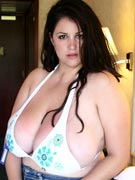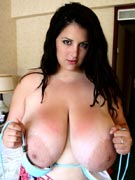 …today's selection of Garden of Eden video clips is taken from her "Outdoors" series, which includes some awesome photos as well. It's lovely to hear Eden speaking in that adorable accent, and there's some excellent close-up HH-cup tit sucking, too! But what romp with Eden would be complete if she didn't start fingering herself at some point in the video (see? I told you she was a bit of a wanker!)? I just love a woman who knows how to make herself feel good: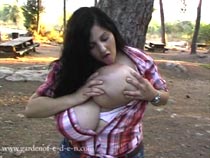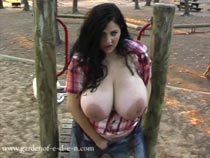 CLICK HERE TO VISIT EDEN MOR'S "GARDEN OF EDEN" WEBSITE