Although I've not blogged her for a while, some of you may remember busty blonde blue-eyed Brit Davina 32J from when I was debating between her and Alicia 36JJ. At the time, one visitor commented upon my conundrum saying that there was no way Davina could be a 32J and was, in his estimation, a 36H (which is most curious, considering that in band- / cup-size ratios, the two measurements would be roughly equivalent (i.e. if we were to take Alicia down to a band-size of 32″, she'd require a KK-cup bra)). Beyond that, I know that Cel is a stickler for accuracy in his statistics, and would never stoop to bolstering his many buxom beauties with fake bra sizes.
However, when Davina joined up with BustyBritain just last week, I noticed that their model directory had her listed as a 34FF, which seems a bit of an understatement to me. And, being the semi-voluptuous woman that she is, I'd also have to call into question their overall measurements of 34FF-24-36. They did get her eye colour right, though, but dropped a year off of her age (since, as we all know, Davina was born in Kingston upon Thames on March 2nd, 1977).
Eh, no matter. Although I know that many of you are most interested in seeing the stats – and I do strive to include such when available – I'm really just in it for the big boobs, preferring to go by look and feel rather than numbers and letters. In that respect, Davina and her milky white tits with their stretchy, pink nipples are real winners for me (being the big fan of British breasts that I am). So, statistics be damned, here's Davina [insert estimated bra size here] in her first appearance at BustyBritain.com…



…since we're on the topic of BustyBritain, I might as well feature a few more of the lovely ladies who linger therein. And speaking of milky white breasts, Emily Cartwright (3rd photo gallery below) provides yet another fine example of the complexion I so crave in British girls (big pussy flaps to die for on that one, too – the kind that tickle the back of your throat when you go down for a good, hard suck!). Denise Davies & Leah-Jayne are rather nice as well, but the award for best expression would have to go to plumper Angel (last photo gallery below) when she removes her partner's trousers to reveal *gasp* an erect penis! Obviously, no one could have ever expected that!! ;~P
So, whilst I quietly snigger to myself over that one, here are a few photo galleries from BustyBritain.com…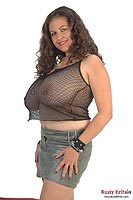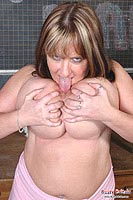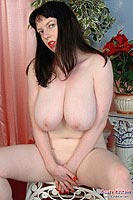 …but where BustyBritain really excels is in their big boobs hardcore videos. I've been following the site from the moment they first debuted the formerly-softcore Leah-Jayne fucking, and have been an ardent fan ever since. Among today's selections, we have some lovely tit-fuck action from both Leah-Jayne & Denise Davies, as well as MILF Josephine James greedily taking on two cocks in an MMF threesome! And, as I gave an award in the photos categories, I suppose I should grant honourable mention to BB's own wildcard fetish fiend (The Crazy World of) Victoria Brown for successfully fisting herself up to the wrist (the question "How many fingers am I holding up?" strangely springs to mind here)!!
Alas, heavenly haven of huge hooters hardcore that they have time and again proven to be, however can I fault them for the odd statistical anomaly? I'd much rather dwell on the positive. Thus, a few video galleries of the best in British big breast sex, again from BustyBritain.com:



CLICK HERE TO VISIT BUSTYBRITAIN.COM

(webmasters)