Call me naive, but I grew up with the myth that women didn't masturbate. Sure, I was well aware that it was a common practice for the boys – I even knew one guy in high school who would skip class just to go out to his car and have "a quick one off the wrist". But the girls? No!
It wasn't until I'd begun chatting on-line with two women who spoke frankly about their sexuality that I realized I'd been mislead. They were a pair of "complete wankers" (in the masturbatory sense of the word), and their frequency rivalled even my own! Later on, one of them was kind enough to demonstrate her exquisite manual technique for me via webcam (and, not terribly long after that, I married her!).
Since then, female masturbation seems to have become more prevalent in the the public eye. In 2003, Britney Spears wrote a song about it with "Touch of My Hand" (hmm, I wonder what the video for that one is like?). And, earlier this year, bodacious Big Brother housemate Kinga Karolczak captivated prime-time British television audiences by masturbating with a wine bottle! So, unlike the dark ages of my childhood, it's no longer taboo.
Clitical.com, the "ultimate female masturbation and sexuality information site", reports that recent studies have shown that over 80% of women have masturbated at some time, and that the activity is far more prevalent among older women than teens. For those wishing to take a more "hands-on" approach, the site even hosts a section where women openly share their favourite techniques!
But enough talk. Actions speak louder than words, so here are a few video clips of busty Brandy Taylor to show us how it's done: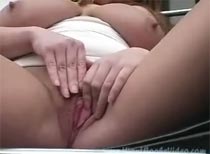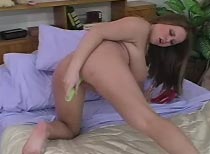 CLICK HERE TO VISIT BRANDY'S WEBSITE