I was going to entitle this blog "Balling Alicia" (which is just wishful thinking on my part), but then it struck me that seemed a bit too close to "Boxing Helena", a disturbing film starring the moderately-endowed Sherilyn Fenn of "Twin Peaks" fame (actually, she's considered quite well-endowed if you reduce yourself to the meagre Playboy or Hollywood standards, but she'd never make it on MyBoobSite). ;~P
Such is not the case, however, with the lovely Alicia 36JJ from Divine Breasts (or "Devine Breasts", as some of my less astute visitors originating from Yahoo or Google key in as their search terms, usually ending up with Devyn Devine instead). No, Alicia is the very epitome of a well-endowed woman in my book! However, what more could I possibly say about her that's not been reiterated time and again on these pages?
Still, when I encountered the following photo set of Alicia sunning her big, beautiful breasts outdoors with a soccer ball (okay, so maybe the Brits refer to these as "footballs", but we all know that a real football is shaped more like what they call a rugby ball (is all too confusing for this transplanted American) and, honestly, a real football would be far closer to the shape of Alicia's pendulous boobs (which some Brits might refer to as "droobs", to further confuse the issue)), I couldn't help but share them with you. Anyway, I personally feel that there's no such thing as too much Alicia here!
Thus, here she is once again, resting her JJ-cup breasts on some manner of generic sporting sphere (to avert arguments), courtesy of DivineBreasts.com: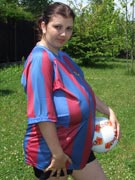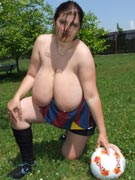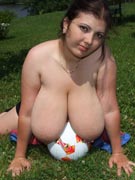 (note: actual photos downloadable from the site are 1024×768 resolution)
CLICK HERE TO VISIT ALICIA 36JJ AT DIVINEBREASTS.COM

(webmasters)