Well, it's Thanksgiving again, and time to count our manifold blessings. Thinking long and hard about this (those being the two operative words considering my usual prurient thoughts), I've decided that one of the things I'm most thankful for is tarts with big tits. No, not tarts in terms of the crusty, frequently fruit filled dessert which you may be partaking in this evening, but loose, wanton women; cock-hungry sex-fiends; promiscuous nymphomaniacs – in a word, sluts (and I do use the term most endearingly)!
And I would be remiss if I didn't give thanks for the one nearest and dearest to my heart, my all-time favourite busty slut, the lovely Vix, who is, at this moment, once again preparing a traditional turkey dinner replete with all the trimmings (in an effort to make this displaced American feel more at home since said holiday is not recognised here in the UK) and, dare I say, without whom MyBoobSite would not exist.
In searching for yet another naughty nympho to help illustrate my gratitude on this day, I had to look no farther than 39-year-old über MILF Kelly Madison (who, despite being just three years younger than myself, still looks damn fine, damn her!). Although I'd fallen in love with 34FF Kelly from the moment I laid eyes upon this photo, I'm embarrassed to say that she's been largely neglected here as of late…and, even worse, it's been nearly a year since I last visited her website!
All I can say is, if you've not been to Kelly's site recently, GO THERE NOW and download her two free sample video preview files (the links are located just below the Kelly Madison Broadband Theater frame, but be patient, as the videos are 21MB & 12MB respectively (and well worth the wait))!! I also found myself quite pleasantly surprised to learn the identities of bisexual Kelly's pornstar girlfriends – many of them regulars here on MyBoobSite – who make frequent guest appearances there!
So, amidst all of the festivities of the day, let's take a moment give thanks for busty sluts and horny housewives like Kelly Madison, who enrich our lives with their big breasts (and I'm not talking turkey here!) and dirty dispositions throughout the year. It is indeed in their honour that I serve up the following photo and video galleries from KellyMadison.com:
Kelly Madison photo galleries from KellyMadison.com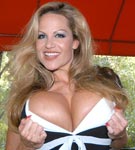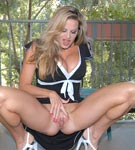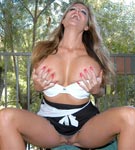 Kelly Madison video galleries from KellyMadison.com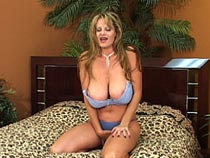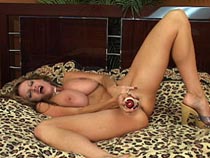 CLICK HERE TO VISIT 34FF KELLY MADISON AT KELLYMADISON.COM

(webmasters)