Big breasts generally aren't the first thing that comes to mind when most muse over "The Sound of Music". Usually, it's something more like singing nuns, which, for me, hold no illicit interest whatsoever…although perhaps this is because of something my father always used to tell me when I was growing up: "Son, it's perfectly acceptable to kiss a nun, just as long as you don't get into the habit." Ewww. It doesn't bear thinking about, really. :~P
But my mind works in mysterious ways. For example, when I was making the very first test post on MyBoobSite, it was The Sound Of Music's "My Favourite Things" playing incessantly in my head as I wrote my boob lover's adaptation of the lyrics. And, of course, who can forget when Julie Andrews, who played pure as the driven snow Maria in the musical, shed her wholesome image by getting her tits out in Blake Edwards' "S.O.B."? One of the best films ever, imho, and one for which Ms. Andrews – who was, in reality, Mrs. Edwards – earned the nickname "Mary Pop-outs".
So, yes, I must reluctantly admit that The Sound of Music does indeed turn my thoughts to breasts. The mere mention of the name "Maria", as a further example of this phenomenon, immediate brings "Moore" to my mind. Either that or "Swan", depending upon my mood. But lately, though, it's been moreso Moore than ever, as the lovely, voluptuous Maria has proven to be my 10th most popular search term so far in October, with 2,689 visitors this month alone finding MyBoobSite with her as their query!
Not being one to argue with popular opinion where big boobs are concerned, I decided to venture forth to JuggMaster in my quest to give the people what they want, and therein finding a copious collection photos & videos featuring our glorious 36GG goddess in, and out, of a variety of revealing outfits (her naughty nurse costume being one of my favourites, as Maria can nurse me with those gigantic GG-cup juggs of hers any day!). And so, once again by popular demand, I present that incomparaby stunning picture of pulchritude, 36GG Maria Moore from JuggMaster.com…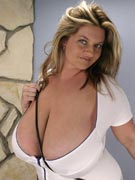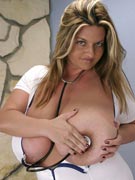 …as for the videos, when I last blogged JuggMaster, I'd included a few photos of Maria sitting seductively on a park bench in sexy see-through black lace lingerie. Thus, for today's video selection, I thought it might be rather nice to see that scene played out in motion! To wit, a small sampling of Maria Moore video clips – lovingly edited from her magnificent mammary-laden 12-minute movie which accompanies said photo series – courtesy of JuggMaster.com: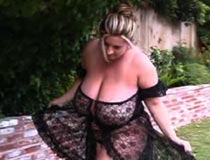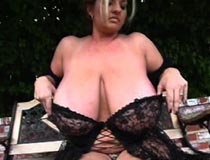 CLICK HERE TO VISIT 36GG MARIA MOORE AT JUGGMASTER.COM