As you're probably aware if you've been with MyBoobSite since the beginning or have perhaps purused the past year's worth of posts, the wife & I are wont to invite others into our bed for a bit of recreational sex threesome, foursome or moresome stylie (actually, we have to use the floor when we get above four). Most of our swinging partners have become good friends, and we relish the pleasure of their company socially as well as sexually. Thus, when I'm not enjoying the odd cowgirl fucking / blowjob or Vix isn't otherwise engaged in a bit of double vaginal penetration, we tend to sit naked in bed with our sundry swing-mates and just talk (okay, sometimes we play Scrabble, but that may be drifting a bit too far off today's topic).
The reason for my gratuitous mention of this is that, a while back, one of our regular partners took the opportunity during just such a fuck-break to reveal a fantasy he'd been harbouring for some time. This involved having a lewd & lascivious liaison with a young, albeit adult female dressed as a schoolgirl. Of course, when you're involved in the swing scene, you can basically "advertise" for whatever you want – as long as it's legal – and chances are you'll find someone who shares your particular fetish. Still, he felt a bit concerned with the specific, exclusionary nature of said fantasy.
Now, while I wouldn't dream of denying anyone their unique fantasies, I have to admit that I just didn't get this one. To be honest, I haven't fancied anyone dressed as a schoolgirl since I was, curiously enough, in high school (and we all know how that turned out)! Nonetheless, I did find myself more than mildly aroused when I encountered the following photos & videos on Eden Mor's Garden of Eden website in which she portrays a generously overdeveloped sexy schoolgirl. For me, though, the turn-on was moreso the fact that it was Eden rather than the outfit she was wearing (I tend to get off more on the nude body that I do on any particular clothing or lingerie).
Who knows? Perhaps I just have a nudity fetish (which would explain why I get so excited every time Eden "flashes pink" (or maybe that's because I know that invariably, once Ms. Mor exposes her pussy, it won't too be long before she begins wanking (female masturbation being a major fantasy scenario of mine))). For those of you who do share our fuck-buddy's fetish (and before I begin revealing some of my more embarrassing fantasies), here's the lovely Eden Mor, donning her school uniform, being generally sexy and dangling her saucer-sized areolas in our faces at GardenOf-E-D-E-N.com…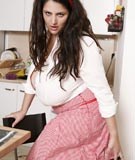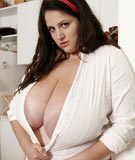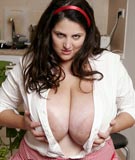 …as far as big boobs videos are concerned, Eden is likewise a master of satisfying the breast fetish, with plenty of jiggling and flopping her tits out (the latter apparently when she least expects it, judging by her reaction!). But it's my "women who wank" fantasy at which Eden excels the most, especially when she reaches her fingers up to her mouth for a taste after seductively stroking her pussy. *mmmm* So prepare to take off your pants (no, really, Eden specifically requests this in the first of her video clips below) and enjoy these preview videos of Eden Mor – once again playing the sublimely sexy overdeveloped schoolgirl – from GardenOf-E-D-E-N.com: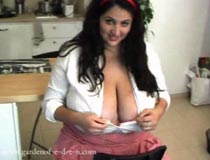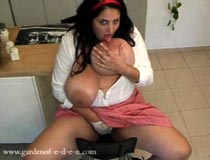 CLICK HERE TO VISIT EDEN MOR'S "GARDEN OF EDEN" WEBSITE