Thanks to all of you who've commented on my conundrum over the three non-blondes (and thanks to Cel for posting that stunning hi-res photo of Lorna!). I still haven't made up my mind on the issue at hand, but had been giving it careful consideration until I suddenly became distracted by – what else? – a blonde! Honestly, I can't be trusted.
The blonde in question was Kate Bona from the Busty.pl website. I find this 33-year-old relative newcomer to the Polish Busty family positively stunning and one of their best discoveries to date. Of course, her huge 75H breasts (that's a 34H in US/UK measurements) could have something to do with my instant attraction and enduring obsession, but that's certainly not the whole of the story. No, I didn't fall completely and madly in lust with Kate until she let her hair down (see the second series below, specifically this photo), so perhaps I really am hooked on blondes!
As much as I like Busty.pl, though, I do have one complaint: In reading their description of Kate Bona, you keep coming across terms like "older woman" and "mature"! She's only 33, dammit!! I wouldn't necessarily mind if they'd called her a MILF, but mature?! Perhaps, since I've got nearly a decade on Kate, it's simply a matter of perspective. The last time I had sex with a woman that I'd consider mature – who, coincidentally, was also a Kate and equally stunning, although you'd need to swap DD for H in cup size – she was in her late-forties. Eh, maybe it's just me.
But that's beside the point, we're here to see Kate Bona, so here are a few photos from the very first "teaser" session she did with Busty.pl…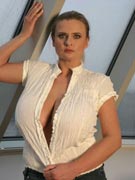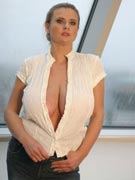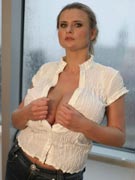 …now this next series is the one that really caught my attention. Wearing only jeans and a see-through wrap, she finally lets her hair down so we can witness that beautiful blondeness whimsically cascading over her cleavage. *sigh* Wherever did Busty.pl find her? I want one! And, before you argue that I've already had a Kate, I want this one!! Here's why…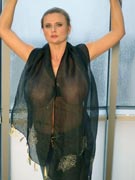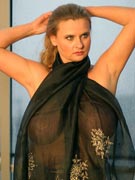 …finally, and at long last, we get to see the lovely Kate Bona with her H-cup tits out – teasing temptress she's been so far – treating us to a glimpse of those fabulous flesh-coloured aureolas and nipples whilst she soaks in her bath. It's no wonder she's achieved such profound popularity at Busty.pl, and that means we can look forward to seeing a lot more of her: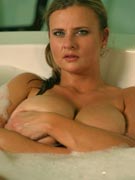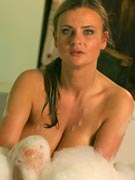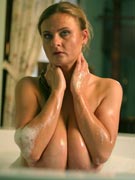 CLICK HERE TO VISIT KATE BONA AT BUSTY.PL