Negative comments make up about 5% of the overall feedback I get here on MyBoobSite. In most cases, I moderate these out unless they're genuine constructive criticism about a given site or shoot. When it's a blatant snipe at a model, I generally consider the delete button to be my friend – especially since many of the models featured here actually visit my blog to read your comments. I do read them all, however, and, if there's a valid point to be addressed (that I haven't dealt with before), then I'll usually make an attempt to reply.
Case in point is a recent comment I received on a blog I'd written sometime within the past month. I didn't want this one appearing on the specific blog for which it was intended, as it could've been hurtful to the featured model. So, instead, I've decided to deal with it more anonymously. To wit, one disgruntled reader (whom we'll refer to as "Blake") wrote: "nasty. whats with the brutal posts lately? how about you post some chicks that are actually hot, and not fat and ugly? its been exactly a MONTH since you've had a decent girl. hot sexy abigal from femjoy… you need more of chicks like her."
Brutal posts?? Fat & ugly?! There's no need!! While I do try to appeal to everyone here with a balance of big boobs across the weight spectrum, it's difficult to find the larger cup-sizes on women who aren't sporting a few extra pounds elsewhere on their anatomy – it's just a natural consequence of large breasts, especially when you reach up into the JJ-cup range with women like 36JJ Alicia. Whereas there are girls like 19-year-old 32EE Liz around to satisfy the slim-n-stacked aficionados, these are few and far between and actually only represent the absolute minimum cup-size for MyBoobSite!
I've even been accused of having a bias toward weighty women when I asked why everyone seemed to be gravitating toward the thinner girl with the smaller breasts. In response, alkhazarthegreat wrote: "Fascinating that you're so obviously in the lardo-camp with this comment. Fascinating that for you, clearly, heavier is better when, breasts aside, Liz is 'conventionally-shaped'. She's only 'skinny' as compared to the quarter-tons *you* think are heavenly." To be fair, I think that anyone with huge breasts is heavenly, not just the chubby chicks, and I need only cite a few of my thinner favourites like Merilyn, Princessa & Faith in evidence (and, to a lesser degree, Ashley – but only lesser because I believe some of you might consider her "chunky" compared to the others).
That said, although I think that Liz from TopHeavyAmateurs2 is a truly sexy, stunning creature in her own right, she's just not big enough in the bust-line department for my particular tastes. I want big boobs that I can get totally lost in, regardless of whether the woman providing me with the pleasure of her pulchritude is heavy or slight in build. It's the tits that I'm focused on primarily, and any other features of physical beauty are but a bonus. Granted, I'm not averse to wallowing in a few extra pounds of flesh elsewhere on a suitably well-endowed woman, but it's by no means a requirement.
Nonetheless, based upon the copious comments that I received last time Liz was featured here, I thought I'd bring her back for another visit. To be honest, she's built a bit like the busty girl from my teens that I'd mentioned in my Alexandra Moore video blog (albeit taller and without the braces), so there is a certain nostalgic attraction for me. Thus, here's a reprise of 32EE Liz in photos & videos from TopHeavyAmateurs2.com:
Liz 32EE photos from TopHeavyAmateurs2.com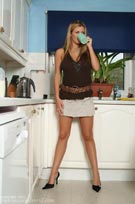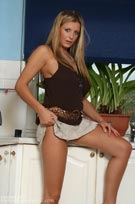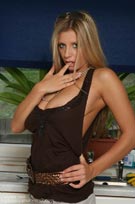 Liz 32EE videos from TopHeavyAmateurs2.com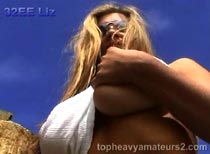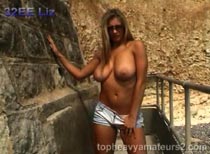 CLICK HERE TO VISIT 32EE LIZ AT TOPHEAVYAMATEURS2.COM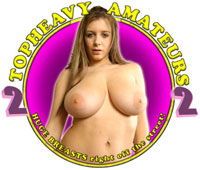 [Don't forget, you can sign up to both TopHeavyAmateurs sites for just $10 more than
the regular $24.97 monthly subscription rate for one of them and get a 30% savings!]