Moore, Mor & Moore – I seem to be on a theme at the moment. It started two days ago when I blogged Maria Moore. Then, just yesterday, it was Eden Mor. Well, I figured I'd follow through today with one more Moore, Chessie!
Long-standing veteran to the world of big boobs porn, Chessie Moore started her adult film career in 1989, and a year later began making regular appearances in men's magazines. Dubbed "The Dutchess of Down & Dirty" because of her willingness to perform just about any possible sex act known to man (or…no, I won't complete this parenthetical comment), she quickly gained a place in the hearts and libidos of fans the world over.
I first encountered Chessie in Juggs magazine around 1990, and she instantly struck me as truly a big-breasted blonde lover's dream girl. Being a bit of a slut monger myself, never having found mental or emotional attraction in the chaste, wholesome type, Chessie became even moreso my ideal when I later learned of her slutty reputation!
Sadly, in the mid-1990s, Chessie stopped appearing in my favourite big tit mags and I totally lost track of her. Years went by without seeing any sign of my busty blonde slut goddess. Then, sometime around the turn of the millennium, I was casually surfing UseNet for big boobs (no change there, then) and stumbled upon the following photos…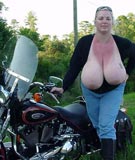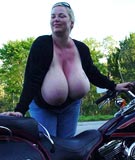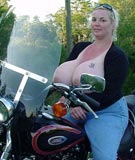 …it was Chessie, alright, getting her tits out on her new Harley Davidson! Not only that, but her boobs appeared to have grown significantly bigger than the last time I'd seen her!!
However, it wasn't until this past June that a webmaster mate informed me he was adding a new site to his repertoire – ChessieXXX.com – starring none other than pornstar legend Chessie Moore! As soon as the site was up and running I went and gathered up a handful of photos from which to assemble MyBoobSite's first Chessie blog.
Since then, the site has grown enormously with the addition of of over 100 complete photo & video sets whose content range from "Vintage Chessie" taken from her lengthy career as a professional porn star (well, she's still a professional, she just works for herself now) to Ms. Moore's present day sexploits wherein she invites members of her fan club (yes, it could be you!) to appear in XXX hardcore videos with her!
But, since I started this blog on an outdoor theme with her bike pics, I though I'd start with a few more recent photos of the softer (-core) side of Chessie in the great outdoors, from ChessieXXX.com…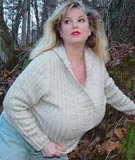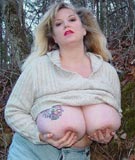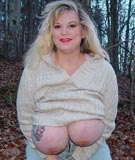 CLICK HERE TO VISIT CHESSIE MOORE AT CHESSIEXXX.COM
…a truly stunning example of a woman, it's hard for me to believe that she turned 47 early last month! And aren't those tits just marvellous?!
Now I know that some of you are categorically opposed to breast implants. Personally, I'm quite happy with them either way, as long as they're large. In the grand "real boobs / fake boobs" debate, I prefer to sit on the sidelines and let everyone else argue it out and take all the big tits for myself, whether natural or enhanced! ;~)
Anyway, isn't variety the spice of life? Those of you who've enjoyed the supreme pleasure of a tight, orgasm-inducing, big silicone tit-fuck will know exactly what I mean. In my own experience, most girls with natural breasts have had to "cheat", using added manual stimulus to exert enough pressure to make me cum. However, the sheer cleavage compression between a pair of big silicone babies makes for a most excellent hands-free tit-fuck!
In Chessie's case, she opted for breast augmentation because hers were lopsided (granted, they were rather small as well, but she wouldn't have had the surgery had it not been for the imbalance). As I've always said, if you're going to do it, do it BIG! Expanding B-cup boobs to a mere C- or D-cup is just a waste of money. And Ms. Moore certainly got her money's worth, as she now sports a massive 44H rack!
Let's have another look, shall we? Yes, we shall – this time featuring a more domestic Chessie getting her tits out around the house, at the computer on webcam and in the bath, once again from ChessieXXX.com…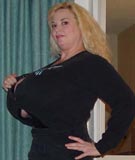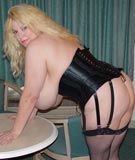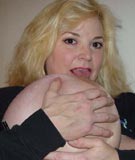 CLICK HERE TO VISIT CHESSIE MOORE AT CHESSIEXXX.COM
…wow, this is turning out to be a bit of an epic blog, isn't it? However, I'd feel bad if I didn't leave you with some videos through which to enjoy H-cup wonder Chessie Moore in motion. Trouble is, there are far too many to choose from! Thus, I must exercise some self-discipline (although self-abuse might be far more satisfying) and select a theme as I'd done for the photos.
.
.
.
Okay, I've decided. Today's theme shall be "Classic Chessie", with vintage video clips of a few of Ms. Moore's many movies from the days of yore ("yore" meaning, of course, the 1990s). I must say, however, that I'm personally more partial to her present-day selections because they've got that intensely erotic "reality porn" feel to them; something missing in the production packed porn of the past (besides, I think Chessie's far more beautiful now than ever).
But I chose the theme and now I've got to stick to it. If I think this through rationally, I suppose there's always time for Chessie's ever-growing body of new photo & video work in blogs to come. So with that consolation in due consideration, here's a selection of vintage Chessie Moore video galleries from a just a few of the classic fuck flicks featured on ChessieXXX.com:
CLICK HERE TO VISIT 44H CHESSIE MOORE AT CHESSIEXXX.COM

(webmasters)