Well, it's Christmas morning here in the UK and I thought I'd take a moment to wish all of you a most Happy Christmas before getting on with the business of unwrapping presents. Then, after a leisurely morning together, Vix & I will probably head over to the pub to spend the rest of the day with friends. Vix is planning on wearing her Mrs. Santa outfit, too, so no doubt she'll be tits-out by evening! ;~)
Speaking of presents, in the Czech Republic, one of the most-requested gifts on women's lists this year was bigger boobs. Strange, as I'd always thought they were particularly well-endowed over there (though, with competition like the stunning 32G Jana Defi in their midst, I suppose they've got a lot to measure up to!). Hmmm, I wonder how many Czechs found bigger breasts under their trees this morning?
Well, as promised, our final instalment of festive Christmas boobs are the biggest of the lot. With her 48NNN naturals, Serenity Davis of eMelons.com has the most massive mammaries ever to be featured on MyBoobSite! And to think, I used to live just 80 miles away from Serenity when I was in the 'States. At that meager distance, you'd think I'd have been able to feel their gravitational pull, wouldn't you?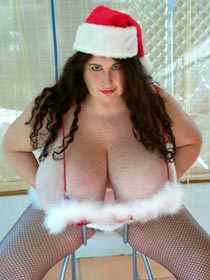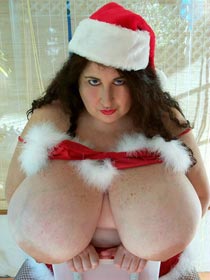 CLICK HERE TO VISIT SERENITY'S WEBSITE

P.S. MERRY CHRISTMAS TO ALL!! :~D