It appears we have a well-hung jury in the debate between short hair or long for the sexy Samantha 38G. When I'd first posted the poll a month ago, I expected the results to be decisive one way or the other. However, after over 2,000 votes, it's still pretty much 50/50 (marginally leaning toward long locks by a mere 20, last time I checked).
Thanks to all of you who voiced your opinions on the topic, too. Even Samantha herself logged in to express her reasons for lopping off that lovely long blonde hair: "Had long hair for many many years. And then once I worked for Score and Bang Bros, they keep marketing all my pics and videos as new and they weren't. So I cut my hair to out date all of their material (I am a stinker). So long haired pics and videos are about 6 years old. All short hair pics and videos are at least 3 years old or newer. Score and Bang Bros has no new material of me at all. Very much enjoyed ya'lls take and comments about my hair length. Changing my hair up keeps it fresh and fun for me. Change your hair, change your life…… It is a given that long hair is sexy, and many models where it long for that very reason. Short hair can be Sassy. Always enjoyed the idea of being Sassy. Smooches, Sam"
So Sassy Samantha 38G it is, then. I don't mind at all, really, as long as she keeps on sharing those big G-cup boobs, voluptuous body and delightful personality with us (although Sam readily admits that her sense of humour, unlike her breasts, is a bit floppy – i.e. "How many Big Boobed Blondes does it take the screw in a lightbulb?").
And so, a bit more saucy sassiness from SexySamantha38G.com…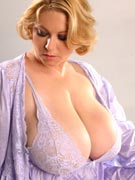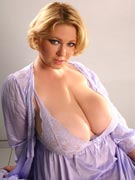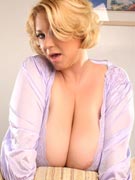 …it seems that Sam's been out on the prowl again for new talent to join her on the site, too, the latest arrival being the curiously named "Ellecee" (is that some sort of Francophilial formulation of Elsie?). Although she seems as much a sucker for big tits as anyone should be, I get the impression that newcomer Ellecee might well be a virgin to the lesbian scene – appearing just a wee bit apprehensive as Samantha peels off her panties and prepares to go down on her pussy for a bit of cunnilingus – but, in the end, she takes it like a trooper and seriously begins to enjoy Sam's oral attention upon her swollen clit.
Here are a few choice clips of Samantha and her newly-converted fuck-friend Ellecee from their lesbian videos at SexySamantha38G.com: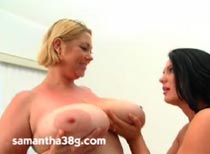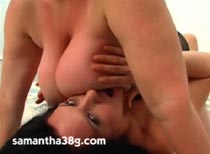 CLICK HERE TO VISIT 38G SAMANTHA AT SEXYSAMANTHA38G.COM

(webmasters)