A visitor to my "Your very own buxom BBW…" blog recently commented: "After looking at your site I notice you are into big blonde girls. However after browsing your site you do not have (or at least seem to have) anything about a girl called Samantha Anderson. After recently viewing some of her material it appears to me that she would be right up your street. I will leave this matter in your hands."
After recovering from the thought of someone leaving the voluptuous 38G Samantha in my hands (*mmm*), I wandered over to MyBoobSite's new Model Directory, as I was certain I'd blogged her before. Being quite partial, as my reader had so aptly observed, to big, busty blondes, I've been a major fan of Sam and her G-cup boobs for some time – having first encountered her in either Voluptuous Magazine or Plumpers & Big Women, and then scattered on sundry porn sites throughout the 'net – so I couldn't imagine that I'd left her out. And indeed I hadn't, finding two past blog entries in which she'd featured: "A second extra-large helping of boobs…" & "WLTM: Big Tits w/GSOH".
Trouble is, Samantha's been a bit elusive lately, making it difficult to find new material to blog. However, I'm excited to report that I've just been informed by her new webmaster that Sam's at long last got a site of her very own – SexySamantha38G.com – featuring all-new photos & videos of the buxom BBW bombshell, as well as a weblog and live webcam shows! She'd taken a bit of a break from modelling after a few bad experiences in the porn industry, finally deciding to resolve her issues by becoming her own boss. Great new for her fans, who have been anxiously awaiting her return to big boob-dom, and I must say that Samantha's busted back onto the scene more beautiful than ever!
Here's but a small taste of the delights that lie therein…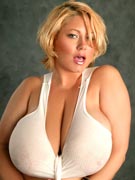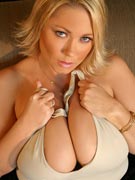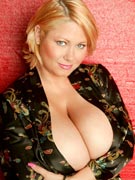 …and here are some vids (but be sure to visit Sam's site for a couple of excellent big-boobed girl-on-girl clips on her video preview page!):



CLICK HERE TO VISIT SAMANTHA'S NEW WEBSITE
(webmasters)