As some of the long-term visitors to MyBoobSite are aware, I occasionally bring my wife, Vix, into the blog. This time I've got a good reason, too, as she's just appeared on the BBC's "Ouch!" Podcast, an irreverent show which frequently takes the piss out of people with disabilities. It's okay, though, as both of their presenters – actor Mat Fraser and comedian Liz Carr – are disabled themselves. And, honestly, even if you're not disabled, it's quite the amusing program.
Vix appeared on a segment called "Vegetable, Vegetable or Vegetable", in which the presenters ask questions in an attempt to guess the guest's disability. In the end, they were unable to figure out that Vix has Multiple Sclerosis, which is not surprising considering the obtuse nature of their inquiries. I'm just disappointed that they cut the part when Mat asked Vix, "Can you masturbate?" (a particularly poignant question for the presenter since, as a thalidomide survivor, he only has flippers where his arms would be). However, later in the program when someone called up Vix' photo page on the computer, Mat remarked that it didn't matter that he couldn't reach it, he just needed to go to www.vixpix.org!
So much for a reserved, conservative BBC. If you'd like to hear the program, just visit the BBC's "Ouch!" website and go to podcast #3 (June 2006). There's also an MP3 version (22.6MB) available for download. The full podcast is 45 minutes long, and Vix' segment starts at 35:30.
Anyway, since we're on the topic of shameless plugs, I thought I'd take this opportunity to feature a series of pics that our photographer mate Jonathan Wilson of Something Erotic took a while back to help promote Vix' charity website, "Tits Out for Multiple Sclerosis". We'd originally met Jon through a popular UK swingers' site and became fast friends (and Jon, if you're reading this, we simply must get together to do a shoot with Vix' white dress!). What I like most about the following series is that it has my all-time favourite photo of Vix (quite possibly because it really shows off her lovely F-cup breasts). Sadly, the shoot stopped just as she was stripping off her clothes, and I won't tell you what happened after that! ;~) [we took Jon out for lunch]
So, without further ado, here are the original photos from Jon's shoot (and, if you'd like to see Jon's splendid artistic impressions of these, you can visit the Vix gallery on his site (why oh why does he always insist on spelling my name with a superfluous "h"?)) or, alternately, she's posted a few on her VixPix.org charity site and the entire series is available at Tits-Out.com: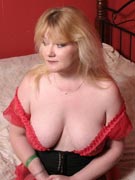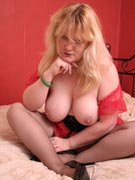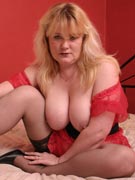 CLICK HERE TO VISIT VIX AT VIXPIX.ORG
…or…
CLICK HERE TO VISIT VIX AT TITS-OUT.COM