I do so enjoy how you all keep me abreast of the latest developments in the world of big boobs; Dave heralded the hardcore debut of Leah-Jayne, BigBoobFan gave the heads-up on Faith giving head, ILoveCows uncovered the lovely 38HH udders of Alessandra Derya, Spencer alerted us to the nightmarish creature dwelling within my wife's cleavage, and the list goes on.
Our latest tip-off comes from my mate Southace, who wrote, "Have you seen the Polish site boobsgarden.com? Some great pictures of Aneta Buena (who is criminally not on mbs) and her friend, the very nicely breasted Wanessa Lilio. Both are well worth a slot on your site."
To be honest, I'd never even heard of BoobsGarden before now, let alone the vision that is Wanessa Lilio! "Nicely breasted" indeed, but also one of those busty, voluptuous blondes that I adore, with natural, womanly curves that perfectly complement those big breasts. For those of you who, like myself, haven't had the pleasure of encountering Wanessa, here are a few of her photos from BoobsGarden.com…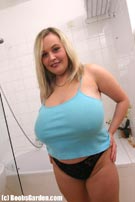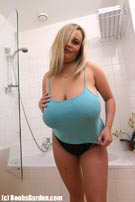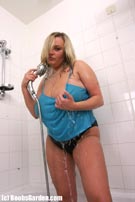 CLICK HERE TO VISIT WANESSA LILIO AT BOOBSGARDEN.COM
…now, on to the other point Southace raised in his e-mail regarding my criminal negligence of Aneta Buena here on MyBoobSite, I feel that I've got a reasonably valid explanation: You see, I'm familiar with Aneta from my various blogs of Busty.pl. However, whenever I visit the site, I find myself totally overcome by Bea Flora (it's a weakness, I know, but that's my excuse and I'm sticking to it).
I just wonder if I'm going to have the same problem with BoobsGarden now, since I've found Wanessa Lilio to be the locus of my lustful lechery therein? Only time will tell, but I'm pleased to report that I've come up with an interim solution for this particular blog entry; a photo series featuring both Wanessa and Aneta! Thus, here's the two of them together getting messy in the kitchen at BoobsGarden.com: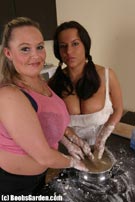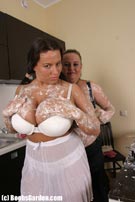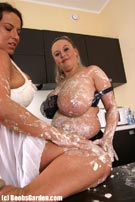 CLICK HERE TO VISIT WANESSA LILIO & ANETA BUENA AT BOOBSGARDEN.COM