Back when I first and last blogged the weird and wonderful world of BoobsXL in early December of last year (can't believe it's been that long!), I had but a handful of photos and one video clip. Then, just two days ago, I received an e-mail from the webmaster announcing their first collection of free galleries (seems everyone's doing it now), thus giving me the opportunity to "flesh-out" my coverage of the site, as it were.
I consider BoobsXL to be weird and wonderful by virtue of their eclectic selection of real women of such diverse shapes, sizes and consistencies (the latter referring to the breasts). All of the models there range from a G-cup to an L-cup (except for Susann 85F/G, who's either confused, slightly unbalanced or in a constant state of flux), with consistencies spanning the all-natural spectrum from firm, full-bodied, hefty hooters to squishy, low-hanging, floppy tits. Granted, these ladies may not be everyone's cup of tea, but what genuine big boob lover would fail to be anything but impressed by the sheer variety?!
At the top of the scale is popular German boobster Sabrina Meloni (popular because she's consistently among the top ten model searches on MyBoobSite), sporting a staggering bra size of 90L (mind you, that's metric and would be a 38L in imperial measures). Fans of flaccid floppers, on the other hand, are sure to appreciate Amanda, with H-cup hangers that seem to conform to any shape they encounter with amazing fluidity. My personal favourite on the site is the voluptuous 95HH Dolly, whose video I featured in my first blog of BoobsXL, as she's one of those well-endowed women you just want to wallow in for days on end.
However, MyBoobSite's award for bizarre behaviour on behalf of big breasts would have to go to 95K Birgit, among whose favourite activities include (and I quote): "I love to squeeze and massage my giant boobs. Sometimes, I can't stop with it and get up too late, because I need tenderness especially in the morning. I love to feel the movements of my monstrous, saggy tits, when I turn around in bed. Then I start stimulating my giant nipples until they are as hard as iron. Or I suck on my hard nipples for myself until I get unconscious." It just makes you wonder if she ever actually manages to get out of bed!!
But that's beside the point. Without further ado, here are the lucky 13 photo & video galleries I received from BoobsXL.com:
BoobsXL.com Photo Galleries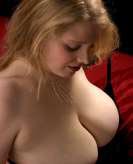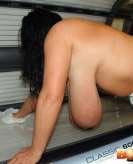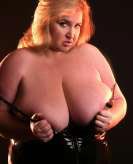 BoobsXL.com Video Galleries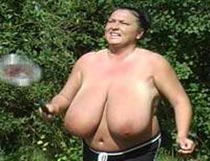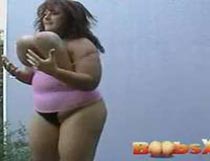 CLICK HERE TO VISIT BOOBSXL.COM
(webmasters)