Sorry to be banging on so much about Scoreland lately (why, in just the past fortnight, there's been Ash & Anna, I've used them as filler for Merilyn, then there were those big tits by the seaside and then, just yesterday, I had to make mention of Mio's massive mammaries moving there) but, today, the site remains relevant since their two most recent galleries are now needed to answer an inquiry posted by MyBoobSite regular TaylorFan on my big boobs buoyancy blog. To wit…
TaylorFan wrote:

Ashley will forever remind me of Faith Nelson (and therefore fall short by comparison I'm afraid…).

What's happening with Faith nowadays Reese? I haven't seen or heard anything anywhere since that last Score update with her looking very classical in stockings.
…well, TaylorFan, it just so happens that Score had posted a new Faith Nelson gallery a couple of days ago and, coincidentally, the day before that saw some new Ashley Sage Ellison pics to celebrate her winning Score's Newcomer of the Year honour for 2009 (congrats, Ash, btw!)! So, killing two birds with one stone (as it were, i.e. finding new Faith and her apparent similarity to Ashley), here are a couple of Faith & Ashley's more juicy big juggs thumbnails from Scoreland.com…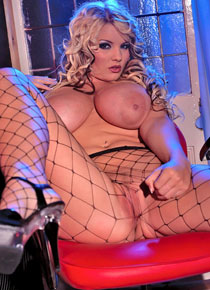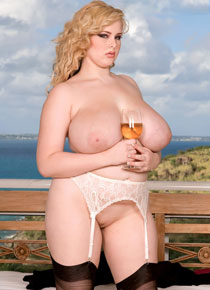 …apart from both being British busty blondes with big & bigger boobs between them, I can vaguely see your basis for comparison yet don't find any truly striking similarities between the two big tits babes (but maybe that's just me). However, there is a rather disturbing similarity between Faith & Ashley at the moment with respect to their kinky hair! Is Ash taking fashion tips from Faith now? Pardon my hairist opinion, but I much prefer Ashley with straight blond hair rather than the curly coif she's sporting here (aqain, that could just be me, although I'm not the only one to have questioned her hairstyle choices).
On to my overall preference, I'm afraid that, being forced to choose between spending a night with Faith or Ashley (awww, c'mon, I guy can have fantasies, can't he?), I'd pick the latter despite Faith being more hardcore on camera. Although both busty girls are cute and sexy to the extreme, I'd go with Ashley simply because I personally feel she's got a better body than Faith's super slim and stacked figure. But then, I've always found myself sexually attracted to more voluptuous women and curvy girls built for comfort not for speed (plus I do have a bit of a belly fetish beyond the big boobs thing), and Ashley's fuller figure fits her perfectly into the fantasy category of cuddly girls I'd like to… erm… cuddle! ;~) Oh, and Ashley's got bigger tits, too!!
However, far be it from me to foist my personal fetishes upon you (as that has indeed gone terribly wrong in the past), so I'll let you make up your own minds on this important mammary matter. So, apart from TaylorFan (as I assume we already know his answer), which of these two incredibly beautiful busty girls would you want to sleep with more? 32GG Faith Nelson or 32JJ Ashley Sage Ellison from Scoreland.com:
32GG Faith Nelson at Scoreland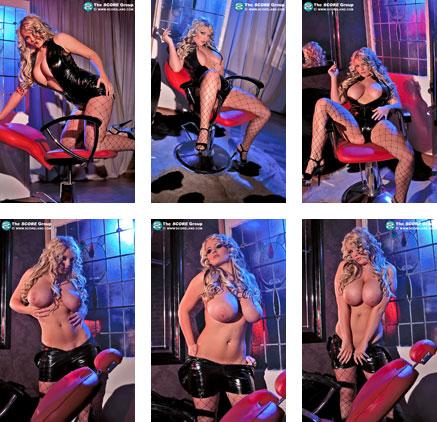 32JJ Ashley Sage Ellison at Scoreland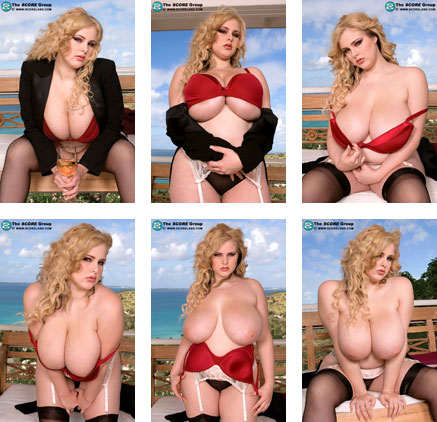 CLICK HERE TO VISIT 32GG FAITH NELSON AND 32JJ ASHLEY SAGE ELLISON AT SCORELAND.COM

(webmasters)
Share and Enjoy
→ Return to MyBoobSite for More Big Tits ←