Halloween has always been an important day to me. When I was young, I used to spend days preparing for this event, working in the garage to fashion festive yet freakish decorations in order to transform our front garden into a cemetery with ghoulish remote-controlled props and a scary soundtrack to frighten the trick-or-treating children (yes, I was an evil child).
Now that I literally live on an old graveyard, however, I no longer have to make the effort as it's like having a perpetual Halloween around our house (although I've not resorted to any mechanised mayhem as I had in the past, since the church-goers who frequent our front garden to visit their dearly departed might have issues with that)!
Thus, unable to further decorate my house, I must turn my penchant for preternatural perversions toward MyBoobSite. Trouble is, I have the utmost difficulty in finding "udderly" terrifying tits to feature for the hallowed eve of Samhain. So many models do copious collections of Christmas content, but why do they neglect Halloween?
In the past, I've only been able to find at most one example of macabre mammary madness to commemorate the day. For the very first Halloween of MyBoobSite's existence, I had but a single photo of the lovely Liana as a witch. The following year, it was 48MMM Rhiannon who scared the hell out of those readers who happen to be allergic to silicone. ;~)
This year, however, I thought I'd try to extend the Halloween festivities over the course of the week, content permitting, and unleash a bizarre barrage of ominous orbs and spine-chilling cleavage from devilish damsels and spooky succubi designed to unnerve and unsettle, haunting the nightmares of even the most unflappable big breast lovers.
Our first fright comes courtesy of 34HH Diana, well-endowed webmistress of her very own LovingDiana site, playing the voluptuous vampire vixen for our pervy pleasure. Although I've never quite apprehended the erotic allure of someone sucking your blood – indeed, I wouldn't make a very good goth – I must admit that Diana is particularly stunning as a demonic denizen of the dark and certainly wouldn't mind sinking my teeth into her beautiful HH-cup breasts for a bite (alas, if only there was a sinister subclass of vampires who instead thrived upon sucking breast-milk from their unwitting busty victims then I'd be well away).
And so, kicking off MyBoobSite's celebration of the weird and wonderful for All Hallow's Eve, here's 34HH vampiress Diana getting ready to suck the life juices out of you (interpret that how you will) at LovingDiana.com: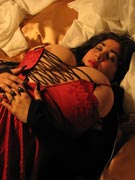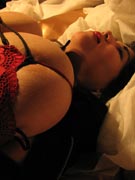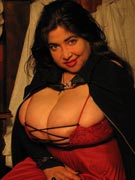 CLICK HERE TO VISIT 34HH DIANA AT LOVINGDIANA.COM

Share and Enjoy
→ Return to MyBoobSite for More Big Tits ←