I cannot believe it's been over a year since I last blogged Boobs.pl (my last post regarding the site being on the Kleinova twins)! It's a shame, really, because they've got lots of great busty Polish models there (as well as the odd English girl) who are well deserving of an entry every now and again. *wink-wink, nudge-nudge*
I'm not certain why I've neglected the site for so long, but I found myself inescapably drawn back in when I learned of a new model they'd recently acquired: 34H Terry. She's one of those young, semi-slender girls – not quite slim'n'stacked, but certainly no plumper either – the kind that reveal that sexy bit of surplus flesh exposed just above their hips when they're wearing tight jeans and a crop-top. Specifically, it was this photo that had me hooked (and also demonstrates the waistline phenomenon I'm talking about)…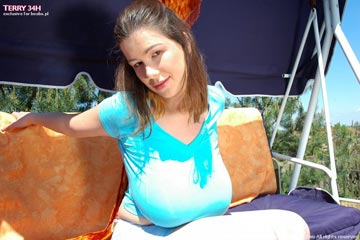 …as I'd only encountered fully clothed photos of Terry elsewhere on the 'net, I decided it was time to revisit Boobs.pl so that I could behold her huge hanging H-cup breasts accentuated by her lithesome 34-inch band-size in all their gargantuan glory. Needless to say, I was not disappointed – especially considering that, although she's a relative newcomer, she's already appeared in six full photo sets and five videos on the site! With all the wonderful photos I'd found there, it was difficult to decide what to feature in today's blog.
In the end, I settled upon an alluring series wherein the playful Terry teases us with coquettish glimpses of her ample breast-flesh from behind an open pink shirt (although there is a bit of a nipple slip in the sixth photo below). But young Terry is more than just a clothed cleavage queen (like some people), as she does indeed show her big breasts naked quite a bit! Now, as I expect that at least 90% of the visitors to MyBoobSite just come here to look at the pretty pictures, for the 10% of you who actually do bother to read what I've written, here's a photo of 34H Terry totally tits-out (shhh, don't tell the others!). ;~)
And, for everyone else, here's 34H Terry in a pink shirt at Boobs.pl…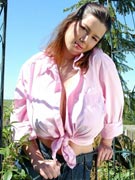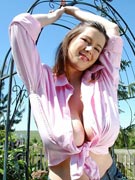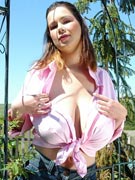 (note: actual photos on the site are 1022×680 resolution)
CLICK HERE TO VISIT TERRY 34H AT BOOBS.PL
…during my visit, there was one other new model who really caught my eye: 34E Pamela. Yes, I know that this is supposed to be an "F-cup & Up" blog, but I was totally taken by the sublime sexiness of this beautiful blonde babe. What's more, she also serves as an example to illustrate just how deceptive cup sizes can be! Referring you to the first photo below (which is the one I initially encountered when visiting the site), I'd have estimated Pamela to be more of an F- than a mere E-cup. However, when I finally saw photos of her breasts dangling free (specifically, this one), I realised from the obviously lower volume of adipose tissue filling out the contours of her tits that the sizing was indeed accurate.
Still, you have to agree that, although Pamela might not measure up to our stringent cup-size standards, she nevertheless has a nice pair of breasts (and with unusually large areolas for their size!). And so, acting as MyBoobSite's ad hoc E-cup ambassador, here's beautiful blonde Pamela 34E from Boobs.pl: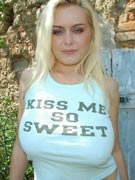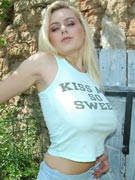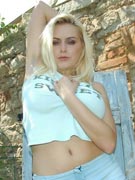 (note: actual photos on the site are 1200×797 resolution)
CLICK HERE TO VISIT PAMELA 34E AT BOOBS.PL

Share and Enjoy
→ Return to MyBoobSite for More Big Tits ←