It's no secret that I'm somewhat infatuated with Eden Mor. I mean, I've blogged her here and here and here and here and here, and she even features prominently on MyBoobSite's link banner:

I love Eden's website and simply can't get enough of her incomparable 80HH breasts, her beautiful face and lovely, curvaceous body. However, today suddenly found me obsessed with seeing her stark, bollock naked. Don't get me wrong, I think the photos & videos on her site are wonderful and the best, most erotic work she's ever done…but today I was after something a bit more raw and unrefined. I found myself venturing out of her welcoming Garden of Eden and into the nether-regions of Scoreland. After all, it was Eden's own nether-regions that I was after. ;~)
I reasoned that, in Score's family of websites – especially Voluptuous & XL Girls – I could find what I was looking for. Most big boob models have, at some time or other, appeared with Score. In many cases, that's how they got their start in the adult industry. As such, it's the most massive collection of big tits you'll find anywhere, a veritable wonderland of huge breasts, the big boob lover's dream come true. It took me a considerable amount of time to troll through their archives, especially considering the wealth of well-developed distractions therein.
Needless to say, I was not disappointed. There she was, right in front of me: Eden Mor exposed, laid bare before my eyes. Now, I normally don't go in for this kind of thing. I prefer my porn to be a bit more tasteful, more engaging. I don't know what came over me, but, this time, I needed pussy…and this photo, in particular, gave me exactly what I'd been longing for. Eden's 80HH endowments became merely a bonus as I became drawn between her legs, to those luscious lips. It was overwhelming. I just wanted to kneel down in front of her and show my appreciation. ;~) I felt dirty, but it felt good.
Sorry to drag you all into my prurient pursuits – I promise to resume our regular broadcast soon – right after I spend a little more time with these: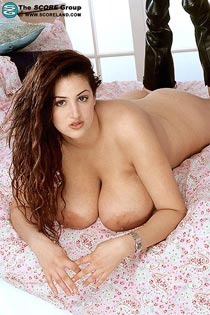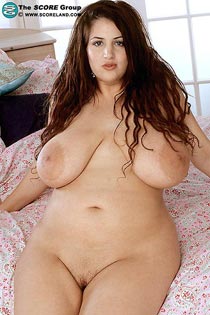 CLICK HERE TO VISIT SCORELAND.COM
(webmasters)