In my recent blog about Micky from Divine Breasts, MyBoobSite regular Charles had posed a comment which read, "Reese, what you need is to have Anya put on a blonde wig for you. LOL. Micky looks GREAT! Here's to slim and stacked!!!" [to which I'd responded with this gallery] Then I'd remembered that yet another MBS regular, Very Free, had mentioned that 36FF Joanna had done precisely that over at Siliconefree.com under the pseudonym of "Lori"!
The girls of Siliconefree are certainly no strangers to MyBoobSite. I'd first signed up as a member there when I discovered that 36HHH Zina was exclusive to the site. Since then, I've featured sundry other SF models, including the massive-breasted Karola and their latest arrival, Varvara. However, for all the time I've spent on the site since joining, I'd never so much as glanced through the curious galleries of Lori, despite the prior recommendation to do so.
Indeed, seeing my mate Cel's favourite raven-haired beauty as a blonde was mildly disorienting. I'm not saying that the photos weren't great – they did an excellent job of showcasing Joanna's slim, sylph-like figure and fabulous FF-cup breasts – but, despite my penchant for busty blondes, it was all a bit… (how can I say this?) …WRONG!! Whatever would possess Joanna, who appears on so many sites already, to decide to model for Siliconefree as a counterfeit blonde?!
You have to admit, though, that Joanna is as sexy and seductive as ever, even as ill-fitting wig wearing Lori (the only possible exception being when she pulls her silly wank face (which, strangely, brought SF's lovely Zina to mind, although I cannot even begin to imagine why (except perhaps for the fact that neither of them make particularly convincing blondes))). So, before I continue to pepper this post with needless, nested parentheses, here are some pics of a temporarily-blonde Joanna 36FF, alias Lori, from Siliconefree.com…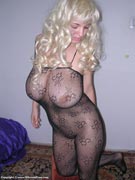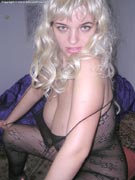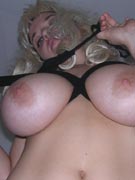 (note: photos downloadable from the site are 1024×768 resolution)
…and then there are the videos – a handful of choice clips featuring the lovely FF-cup faux-blonde Lori, née Joana, losing her bra & panties in a sensual striptease from Siliconefree.com: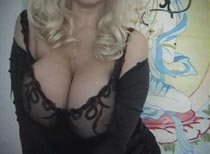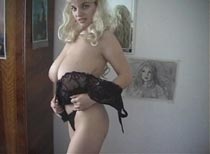 CLICK HERE TO VISIT JOANA 36FF AKA LORI AT SILICONEFREE.COM