I'll admit that I've been blogging Maria Moore quite a bit lately, but that's simply because I'm rather excited to see a fair measure of fresh photo & video content coming for this JJ-cup lovely. Three months ago, my only choices for catching a glimpse of this truly beautiful and profoundly well-endowed woman with any regularity were either TopHeavyAmateurs or JuggMaster (the latter for whom March is Maria Moore month!).
Thankfully, Ms. Moore has now expanded her exposure with appearances on my all-time favourite BBW site, Hot Sexy Plumpers, and a brand new hardcore video for Big Tits Curvy Asses (it also bears mention that she's done yet another hardcore vid for Mom's a Cheater, but you automatically get access to that site as a bonus when you join BTCA). All in all, it merely makes for a lot "Moore" of Maria for all of us to enjoy!
In my last Maria Moore blog, I posed the question of whether or not it's possible to have too much of a good thing, and the comments, messages & e-mails I received in return were overwhelmingly in favour of seeing even more! However, there was one stunning young lady who seemed a wee bit insecure at the mere thought of such a question being posed…
Maria Moore wrote:

"I read MyBoobSite.Com/Blog every day! It is my daily newspaper.

"Saturday's blog pondered 'is there Maria Moore overload?' …everyone can only imagine how unhappy this question would make me. This is a scary possibility to me.

"Yes, everyone was quite anxious when I agreed to, once again, shoot some new content. However, I can still count the places where my image appears… that cannot be so bad. And, certainly NOT…. overexposure…. correct??????

"PLEASE…tell me if I am wrong????

"I just thought I was giving my fans something new!

"Well, since that is off my worried, and insecure chest, I am busy working hard for a site, yet to be disclosed…. but you are are sure to pleased with…."
…and so, Maria, I must apologise for planting the mere thought in your mind, and rest assured that, in my humble opinion and that of many of my readers, we could never get enough of you! The fact that you're working hard for a site "yet to be disclosed" is music to our collective ears, and we await any news on your new venture – whenever you're able to provide such – with nothing short of the most eager anticipation. [Oh, and thank you sooo much for your kind words about MyBoobSite!]
In the meantime, it seems that Alicia Loren's prior plea to get Maria to visit her Divine Breasts site has proven fruitful! It all started with Alicia playfully suggesting that she join in with the big breast competition between Maria & Samantha 38G, to which Ms. Moore admiringly replied: "Alicia, all others would be dwarfed in comparison to your gigantic rack! So, if Alicia is in the contest, I kneel down. She wins hands down!"
Well, thanks to the budding friendship between Maria & Alicia, we can now add yet another site to the growing roster of Maria Moore's photo resume. In her first appearance on Divine Breasts, we get to see the softer side of our 38JJ idol…and I must say that it's lovely to see her smiling so much, showing that she obviously enjoys her work as much as we do! Thus, here's Maria Moore in a few of her first photos for DivineBreasts.com: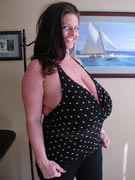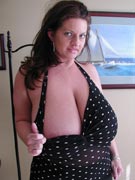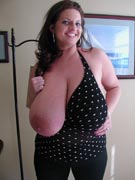 (note: actual photos downloadable from the site are 1024×768 resolution)
CLICK HERE TO VISIT MARIA MOORE 38JJ AT DIVINEBREASTS.COM

(webmasters)
P.S. Do you feel the same in wanting to see even more of Maria Moore here? Then be sure to leave a comment!