At long last, I've finally figured out why I'm so fond of 36HH Sapphire from DivineBreasts, and it was her most recent photo series that gave me the clue: When I was just 16, I used to sit at my parents' front window around the same time each day waiting for a particular young lady to jog past. Like clockwork, she'd bounce her way past – a diminutive yet curvy short-haired blonde with the most massive breasts I'd seen in my life!
After several weeks of this voyeuristic viewing, I became a bit braver, venturing outside to the front yard to catch a glimpse. I always took something out with me in an attempt to look busy. On the fateful day when I gathered up enough courage to actually speak to her, it happened to be a 9-foot leather bull-whip. Now, some 25 years later, I can't even remember what I said to break the ice, but there I was, with my fantasy girl, actually having a conversation!
Her name was Dana, and she was currently attending the high school I'd dropped out of a year earlier to pursue a more specialised education in computer science. She was a year younger than me and lived just around the corner. From that point forward, I made sure that I was outside at the appointed time each day to continue our friendly banter.
Finally, I bit the bullet and asked her out on a date. Although I'd had sex before (as vividly detailed in the story of how I first discovered big boobs), I'd never actually asked a girl out…so I was quite nervous. I'd offered to take her to The Rocky Horror Picture Show, which played every Friday night at midnight (I was a regular there), and, amazingly, she said "yes"!!
Our date was pleasant enough. She'd never been to Rocky Horror before and seemed to quite enjoy it. Having seen the film dozens of times already, my concentration was instead focused upon the beautiful young woman sitting next to me. After about half an hour, I reached my arm around her and settled my hand on her outer thigh. Her breasts were so huge and stuck out so far from her torso when she was sitting that I could feel the extreme weight of the right one crushed against my forearm. It was an hour of pure bliss.
Upon exiting the cinema, I was accosted by two older boys in their late teens – friends of Dana's who didn't approve of her dating a geeky intellectual like myself. I wrangled out of the confrontation before it turned nasty and took Dana home. Sadly, I only saw her once more at a concert we'd both attended separately. We stared longingly into each other's eyes for what seemed like an eternity before she told me that, for the sake of my safety and well-being of my car, it would probably be best if we didn't go out again. :~(
Sorry to belabour you with my relatively uneventful tale of woe, but the whole story seemed like only yesterday when I saw Sapphire in her jogging suit. Although Sapphire's a redhead with long hair, her build is quite similar to Dana's – especially the breasts. And even though I never saw Dana's outside of the confines of her stretchy, form-fitting top, I'd say that Sapphire's heavy HH-cup hangers are a close match, and the cleavage descending down to her navel is just as I'd imagined Dana's to be in my fantasies. *sigh*
Oh well, at least I can vicariously re-live my past – not to mention my missed opportunities – via Sapphire at DivineBreasts.com…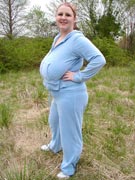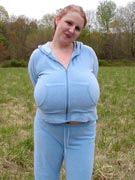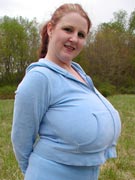 (note: actual photos downloadable from the site are 1024×778 resolution)
…but, moreso than the photos, it was the videos of Sapphire jogging that really took me back. The first one, of course, reminds me of how I actually first encountered my fantasy girl…whereas the second one is how she appeared in my big boob dreams. So here's Dana's lovely body double Sapphire, helping me to relive fond memories, courtesy of DivineBreasts.com: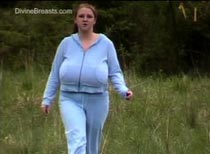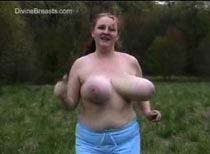 CLICK HERE TO VISIT HH-CUP SAPPHIRE AT DIVINEBREASTS.COM
(webmasters)