Measuring in at 42F-26-36, 19-year-old Kelly Kay is not quite as generously-endowed as our titanic 32G trio of Faith, Busty Merilyn & Maria Swan, but she definitely still makes the grade by MyBoobSite's standards. Originally featured on Scoreland's world of big tits, F-cup Kelly now has her very own website at BustyKellyKay.com. You'll have to hurry, though, because her "teen title" will no longer apply as of November 29th when she turns 20!
Personally, I'm not too bothered by the teen thing and feel that big boob models don't really hit their prime until the age of 30. Just take a look at veterans like Chloe Vevrier, Maria Moore & Imogen – all in their 30s, and far more experienced (and daring!) than these young whippersnappers. Oh well, perhaps I'm just ageist. Still, despite her youthful innocence, Kelly Kay's definitely worth a look…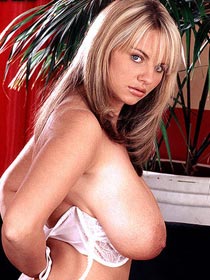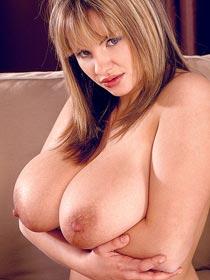 …and, after visiting her site, perhaps not so innocent after all: Check out the hot lesbian scene in the fourth preview clip on her video page to see what I mean!
CLICK HERE TO VISIT KELLY'S WEBSITE