Although it feels unfair to sandwich my busty wife between two pair of truly gigantic tits of at least L-cup bra filling breast size (then again, I suspect she wouldn't mind since she likes playing with big boobs even more than I do!) but, since blogging Rachel just before her, you may have noticed super busty blonde Abbi Secraa with her massive breasts in a bra lingering in lingerie gracing the very top of my big tits sidebar…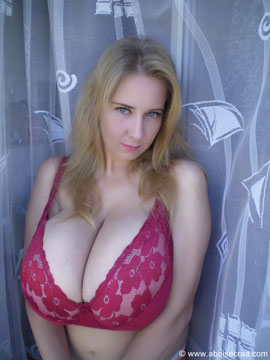 …you also may have noticed that Abbi Secraa looks a whole lot like the likewise extra busty Nelli Roono (whom I'd boob blogged again & again & again & again & again & again & again & again & again & again & again back when she was doing her topless modelling at the Busty.pl site). Well, to put it in the simplest tits terms possible, that's because busty Abbi Secraa is Nelli Roono (an enormous breast fact she herself had confirmed for me amidst our occasional e-mail correspondence as she was setting up her webmaster program). I must admit that it does feel good to get this extremely well-endowed woman with giant boobs and colossal cleavage back on MyBoobSite again, as I've really missed her massive mammaries since Busty.pl went totally tits up for a bit (but their busty Polish boobs site is back up & running again now, though).
Her new site – AbbiSecraa – dedicated to tits true boob connoisseurs of large natural breasts and genuinely classy cleavage, is also the only place I've ever had the pleasure to learn a little about this extremely busty girl behind the massive boobs! Here's what Abbi Secraa had to say about growing up with big tits as a teen on her story / bio page…
As a little girl I was a tomboy. I loved to play the same games as boys, neighbors from my mansion. Our favourite games were basketball and even football. Yes, I was playing a football in the street as a little girl !!!

My story as a woman started about twenty years ago in the central of Poland. Those days I did not realize how significant impact on my life could have my femininity. My breasts started to grow and surprisingly they did not want to stop the process of growing for a long time.

The first unrequited love in a primary school made me aware that there are things in life which we do not have influence on. But luckily we do have a power to manage the majority of things in our life.

You may not believe me, but my breasts were carefully concealed by me. It was changed only when I was about sixteen years old. In a high school, my first interest in my person as a woman (especially among fellows from senior classes) gave me the signal that I should not hide any more what I was generously endowed by nature. Those days my bra cup size exceeded all possible available sizes. Since then I have to order the bras to sew individually for me. It was not possible any more to conceal breasts even under a thick sweater in winter, not to mention about hot summer days and thin summer dresses.
…now, if only she'd post the massive mammary gland measurements of her unusually large bra size for holding those huge pendulous breasts at bay, I'd be a happy cleavage camper. But, for now, let's dispense with the details and simply enjoy her titanic tits in a mesh top courtesy of Nelli Roono name changed now to Abbi Secraa at AbbiSecraa.com: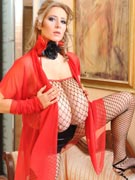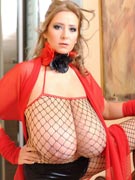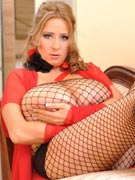 (note: full-size photos available to download at the site are up to 4288×2848 high-resolution)
CLICK HERE TO VISIT NELLI ROONO NOW ABBI SECRAA AT ABBISECRAA.COM

Share and Enjoy
→ Return to MyBoobSite for More Big Tits ←